Camozzi Valves

To compliment our range of fittings and FRL's, A broad selection of Camozzi valves to suite a wide range of applications are also held in stock. Contact your nearest branch for a no obligation quote today.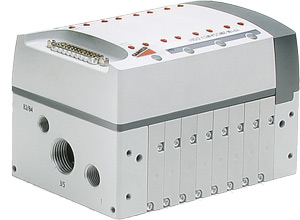 Every Camozzi valve is compact and offers high performance characteristics. Camozzi produce many differtent types of valves, including valves for individual use or for mounting on manifolds or sub-bases.
Valve Islands - Series Y
Pneumatic modules with 2,4 or 8 valve positions. Electrical: Individual, multipole or fieldbus (Profibus-DP, DeviceNet & CANopen) connection.
Valves and solenoid valves - Series EN
5/2 way monostable/bistable, 5/3 CC CO CP, With outlets on the body. For individual or manifold assembly. Sizes 16 and 19mm
Valve Islands - Series H
2x2/2, 2x3/2, 5/2, 5/3 CC
Multipole (PNP or NPN) and Fieldbus (Profibus-DP, DeviceNet and CANopen).