IWIS Roller Chains with attachments
IWIS ELITE offers a wide range of roller chain attachments, to fulfil a wide variety of conveyor application requirements, including a wide range of bent and flat attachment plates, with extended pins available. The plates are available not only in ELITE standard dimensions, but also in a variety of market standard dimensions.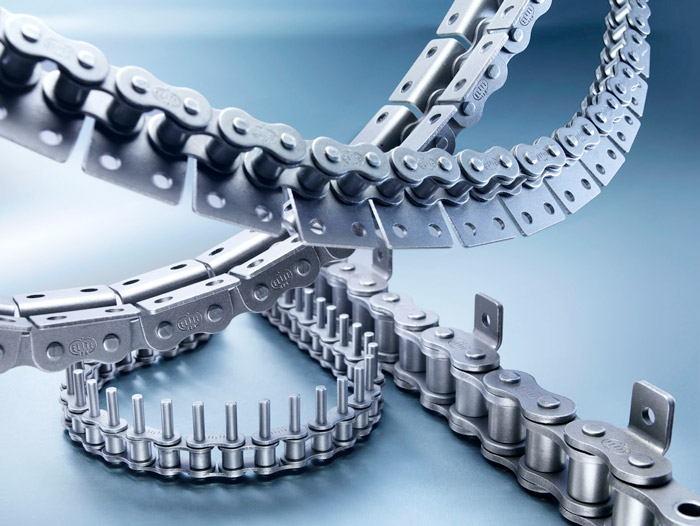 All IWIS ELITE chain plates are tapered and shot-blasted, using production processes such as fine blanking and ball-drifting, to ensure the best possible performance.
Roller Chains With Vulcanised Elastomer Profiles
Roller chains with elastomer profiles are perfect for use in applications where fragile goods require careful conveyor handling. Nitrile Butadiene Rubber (NBR) with a hardness of 80 Shore A is used, providing a combination of cohesive friction, abrasion resistance and durability. Other profile types such as natural rubber or polyurethane are also available upon request.
Roller Chains With Sawtooth Plates
Roller chains with sawtooth plates are used mainly in the wood industry. Some sawtooth plates are designed to sink into the wood and grip it, whereas others ensure that the wood handled is not damaged. ELITE roller chains with sawtooth plates are extremely wear resistant, and have excellent fatigue strength. Biodegradable lubricants are also available upon request.
For further information on iwis Roller Chain Attachments please contact your nearest ACORN regional distribution centre. Tel: 0800 8766 441