KTR Rotex Spider Couplings

The Rotex Spider Coupling is a torsionally flexible coupling designed for positive torque transmission - they are also fail-safe. Extremely popular in industry, their application is ideal for transmitting torque while damping torsional vibrations and absorbing shocks.
As an authorised distributor for KTR, Acorn holds one of the largest stocks of Rotex couplings available in the UK and can despatch same day to anywhere in the world.
Torsionally flexible jaw-type coupling
Maintenance-free
Axial plug-in, good dynamic features
Failsafe, vibration reducing
Max. torque: 35,000 Nm
Max. bore diameter: 200mm
Rotex couplings have a distinct advantage over other flexible couplings which can be prone to bending stress and therefor earlier wear. The flexible teeth of the Rotex are subject to pressure only which gives the individual teeth the ability to accept considerably higher loads. The elastomer parts show deformation with load and excessive speeds.
Explosion-proof use
Rotex T-PUR couplings are also excellent for applications in hazardous areas which can be certified according to EC Standards 94/9/EC (ATEX 95) as units of category 2G/2D and are suitable in hazardous areas of zone 1 & 2, 21 and 22. Further information can be obtained from our couplings division.
Spiders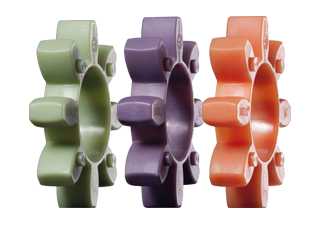 KTR Rotex spiders are highly resistant to wear, oil, ozone and ageing and also perform perfectly at operating temperatures between -50ºC to +120ºC. Also, transient temperature peaks of up to 150ºC don't cause any damage to the coupling.
The high internal damping protects the drive against dynamic overload.