Machine condition advisor
SKF CASM 100-SL Machine Condition Advisor
Equipping your maintenance and operation personnel with the SKF CASM 100-SL Machine Condition Advisor can help to provide early warning of potential machine problems before a costly failure occurs.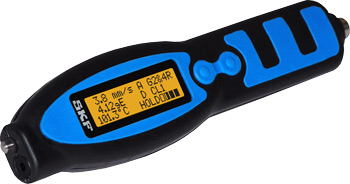 The SKF CMAS 100-SL is a rugged, ergonomic instrument that will quickly and accuratey check the condition of rotating equipment - ideal for both novice users and experts alike.
Measuring velocity, enveloped acceleration, and temperature simultaneously saves time
Assess vibration in industrial non–reciprocating machinery
Alert and danger prompts
Efficient, economical, and environmentally friendly
Check availability via the link below, alternatively, contact your nearest branch for details.