Bearing fitting tool kits
Poor fitting, usually using brute force, accounts for 16% of premature bearing failures.
Acorn carries the TMFT 36 Fitting Tool Kit in stock and can despatch today.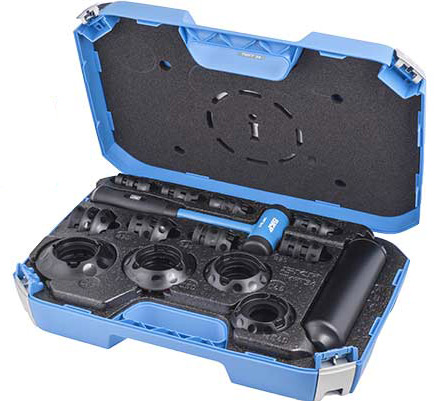 The SKF TMFT 36 Bearing fitting toolkit is designed for quick and precise mounting of bearings, minimising the risk of bearing damage.
The right combination of impact ring and sleeve allows effective transmission of mounting force to the bearing ring with the interference fit, minimising the risk of damaging the bearing's raceways or rolling elements.
Call your nearest Acorn Branch to place your order and receive your kit tomorrow.
| Brand | Item code | Description | Stock |
| --- | --- | --- | --- |
| SKF | TMFT36/5-SKF | SKF Bearing Fitting Tool Kit | |
| SKF | TMFT36-CC-SKF | SKF TMFT 36 Carry Case | |
| SKF | TMHK35-SKF | SKF Mounting kit for OK coupling | |
| SKF | TMFT36-A17/47-SKF | SKF Bearing Fitting Tool Kit | In stock |
| SKF | TMFT36-B35/72-SKF | SKF Bearing Fitting Tool Kit | In stock |
| SKF | TMFT36-C40/80-SKF | SKF Bearing Fitting Tool Kit | In stock |
| SKF | TMFT36-C-SKF | SKF Bearing Fitting Tool Kit | |
| SKF | TMHK38-SKF | SKF Mounting kit for OK coupling | |
| SKF | TMHK38S-SKF | SKF Mounting and Dismounting Kit of OK Couplings | |
| SKF | TMHK39-SKF | SKF Mounting kit for OK coupling | |
| SKF | TMHK40-SKF | SKF Mounting and Dismounting Kit of OK Couplings | |
| SKF | TMHK41-SKF | SKF Mounting and Dismounting Kit of OK Couplings | |
| SKF | TMHK36-SKF | SKF Mounting kit for OK coupling | |
| SKF | TMFT36C50-80-SKF | SKF Impact ring for TMFT 36, size C50-80 | In stock |
| SKF | TMFT36/6-SKF | SKF Bulk pack of 6 pieces TMFT 36 | |
| SKF | TMHK37-SKF | SKF Mounting kit for OK coupling | |
| SKF | TMFT36B30-72-SKF | SKF Impact ring for TMFT 36, size B30-72 | |
| SKF | TMFT36B20-52-SKF | SKF Impact ring for TMFT 36, size B20-52 | In stock |
| SKF | TMFT24/6-SKF | SKF Bulk pack of 6 pieces TMFT 24 | |
| SKF | TMFT36C45-85-SKF | SKF Impact ring for TMFT 36, size C45-85 | |
| SKF | TMFT36B30-55-SKF | SKF Impact ring for TMFT 36, size B30-55 | |
| SKF | TMFT36A12-32-SKF | SKF Impact ring for TMFT 36, size A12-32 | |
| SKF | TMFT36B30-62-SKF | SKF Impact ring for TMFT 36, size B30-62 | In stock |
| SKF | TMFT36A15-32-SKF | SKF Impact ring for TMFT 36, size A15-32 | |
| SKF | TMFT36A10-30-SKF | SKF Impact ring for TMFT 36, size A10-30 | |
| SKF | TMFT36B20-42-SKF | SKF Impact ring for TMFT 36, size B20-42 | |
| SKF | TMFT36B25-62-SKF | SKF Impact ring for TMFT 36, size B25-62 | |
| SKF | TMFT36C40-80-SKF | SKF Impact ring for TMFT 36, size C40-80 | |
| SKF | TMFT36C55-90-SKF | SKF Impact ring for TMFT 36, size C55-90 | |
| SKF | TMFT36A12-28-SKF | SKF Impact ring for TMFT 36, size A12-28 | |
| SKF | TMFT36B25-47-SKF | SKF Impact ring for TMFT 36, size B25-47 | |
| SKF | TMFT36A10-35-SKF | SKF Impact ring for TMFT 36, size A10-35 | In stock |
| SKF | TMFT36B25-52-SKF | SKF Impact ring for TMFT 36, size B25-52 | |
| SKF | TMFT36C50-90-SKF | SKF Impact ring for TMFT 36, size C50-90 | In stock |
| SKF | TMFT36C40-90-SKF | SKF Impact ring for TMFT 36, size C40-90 | |
| SKF | TMFT36A12-37-SKF | SKF Impact ring for TMFT 36, size A12-37 | |
| SKF | TMFT36A17-40-SKF | SKF Impact ring for TMFT 36, size A17-40 | |
| SKF | TMFT36A15-35-SKF | SKF Impact ring for TMFT 36, size A15-35 | |
| SKF | TMFT36C50-11-SKF | SKF Impact ring for TMFT 36, size C50-110 | In stock |
| SKF | TMFT36A15-42-SKF | SKF Impact ring for TMFT 36, size A15-42 | |
| SKF | TMFT36C45-75-SKF | SKF Impact ring for TMFT 36, size C45-75 | |
| SKF | TMFT36B20-47-SKF | SKF Impact ring for TMFT 36, size B20-47 | |
| SKF | TMFT36A17-47-SKF | SKF Impact ring for TMFT 36, size A17-47 | |
| SKF | TMFT36A17-35-SKF | SKF Impact ring for TMFT 36, size A17-35 | |
| SKF | TMFT36A-SKF | SKF Impact sleeve for TMFT 36, size A | In stock |
| SKF | TMFT36C55-10-SKF | SKF Impact ring for TMFT 36, size C55-100 | In stock |
| SKF | TMFT36B-SKF | SKF Impact sleeve for TMFT 36, size B | |
| SKF | TMFT36B35-62-SKF | SKF Impact ring for TMFT 36, size B35-62 | |
| SKF | TMFT24-SKF | SKF Bearing fitting tool kit, 24 rings | In stock |
| SKF | TMFT36C55-12-SKF | SKF Impact ring for TMFT 36, size C55-120 | In stock |
| SKF | TMFT36C45-10-SKF | SKF Impact ring for TMFT 36, size C40-100 | |
| SKF | TMFT36B35-80-SKF | SKF Impact ring for TMFT 36, size B35-80 | |
| SKF | TMFT36C40-68-SKF | SKF Impact ring for TMFT 36, size C40-68 | |
| SKF | TMFT36B35-72-SKF | SKF Impact ring for TMFT 36, size B35-72 | |
| SKF | TMFT36-H-SKF | SKF Dead blow hammer | In stock |
| SKF | TMFT36A10-26-SKF | SKF Impact ring for TMFT 36, size A10-26 | |
| SKF | TMFT36C-SKF | SKF Impact sleeve for TMFT 36, size C | In stock |
| SKF | TMFT36-SKF | SKF Bearing fitting tool kit, 36 rings | In stock |