Ruland bellows couplings

Ruland Bellows couplings are zero-backlash and have no moving parts, ensuring a long maintenance free life.
The bellows coupling comprises of stainless steel bellows between two anodized aluminium hubs, which create a lightweight, low inertia coupling, capable of accommodating all types of misalignment — parallel, angular, axial motion, and complex.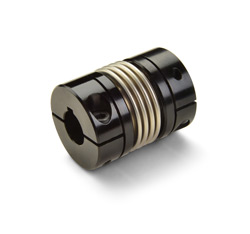 Features and Benefits
Lightweight, low inertia coupling with a long maintenance free life
Balanced design reduces vibration at higher speeds of up to 10,000 RPM
Stainless steel bellows are used for added strength and high torsional rigidity
Accommodates all types of misalignment
RoHS2 and REACH compliant
Bellows couplings are available in clamp and set screw styles with or without keyways in bore sizes from 1/8" (3mm) to 1" (25mm).