Ruland jaw couplings

Jaw couplings are well suited to applications requiring dampening in industries such as solar, machine vision, semiconductor, medical and liquid handling. They feature a highly customisable three-piece design and have low inertia. Jaw couplings are considered fail safe, if the spider were to fail, the jaws of the two hubs interlock for direct power transmission, allowing the application to be safely shut down for maintenance.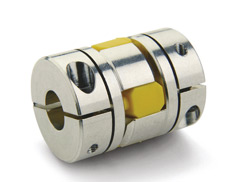 Ruland jaw couplings undergo a proprietary hub machining process to produce a curved jaw profile that press fits with the spider, assuring zero-backlash operation.
Features and Benefits
Curved jaw hubs and press fit spiders for zero-backlash performance.
Balanced hub design to support higher RPM with reduced vibration.
Full range of inch/metric clamp-style and set screw hubs with or without keyways.
Coupling hubs machined from high grade (type 2024 t351) aluminium bar stock for precise fit, superior strength, and bright finish.
The advanced polyurethane material of the spider dampens impulse loads while minimizing shock to the motor and other sensitive equipment.
Spider comes in three different materials including 85 Shore A - Blue for greatest dampening, 92 Shore A - Yellow for accuracy with a small amount of dampening, and 98 Shore A - Red for torsional stiffness and highest torque.
Ruland manufactures zero-backlash jaw couplings with bore sizes ranging from 1/8" to 1-1/8" and 3mm to 32mm.
Considered fail safe because if the spider becomes compromised the jaws of the two hubs interlock for direct power transmission allowing the machine to be shut down safely.
The coupling is designed with the spider as the wear element making replacement cost effective and simple. Replacing the spider will restore the capabilities of the coupling
Special jaw coupling designs such as stainless steel hubs, multiple set screws, and custom bore size and geometry are available by request.