Ruland Oldham Couplings

Ruland's Oldham Coupling is ideal for many light duty industrial and motion control applications, having the ability to protect more expensive machinery components. For example, the coupling can act as a torque limiter during overload. When the disk fails, the centre disc breaks cleanly and does not allow any transmission of power. Oldham couplings also have the advantage of electrical isolation due to the non-conductive nature of the centre disc. This prevents electrical currents from being passed to delicate instruments which can cause inaccurate data readings - an important consideration in medical applications for example.
Ruland oldham couplings are available in set screw or clamp styles, with bores ranging from 1/8" (3mm) to 1-1/8" (30mm). Imperial and metric hubs (set screw, clamp style, keyed, or keyless) are interchangeable and can be combined into a single coupling as long as they have the same outside diameter. Oldham coupling hubs are standard in black anodized aluminum for improved lubricity, increased life, and low inertia. Hubs are also available in stainless steel upon request for increased corrosion resistance.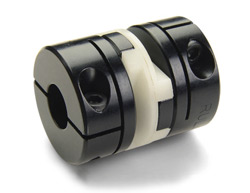 Features and Benefits
Proprietary hub machining process leaves a smoother surface for interaction between hub and disk resulting in significantly longer life.
Balanced design reduces vibration and allows for higher RPM.
Accommodates a high amount of parallel misalignment with very light bearing loads.
Three piece design allows for ease of customization, installation, and blind assembly.
Disks are available in nylon for dampening of impulse loads and noise reduction or acetal for high torque capacity and zero-backlash.
Stops transmission of power during overload conditions.
Manufactured and stocked at our Marlborough, Massachusetts factory. Special designs are available.