Ruland Rigid Couplings

Ruland Rigid Shaft Couplings are available in one and two-piece designs, with and without keyways, in aluminium, carbon steel, and stainless steel. A large number of standard sizes are available in straight and step bore combinations to fit shafts ranging from 1/8" to 2" in the imperial series and from 3mm to 50mm in the metric series.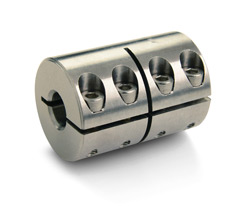 Ruland Rigid Shaft Couplings are available in either one piece, two piece, set screw or double wide shaft collar.
Features and Benefits
Ruland rigid couplings do not introduce misalignment, vibration, or bearing noise into the system making them suitable for high precision servo applications and shaft to shaft connections.
Highest grade forged screws (DIN 12.9 for metric screws) test to or beyond industry standards for maximum torque ability.
Only manufacturer with precision honed bores on straight bore rigid couplings for superior fit and torque transmission and alignment.
The cross cut design ensures a proper clamp on both shafts because it can accommodate slight deviations in the size of the shafts being connected.
Proprietary Nypatch® coating on hardware provides even seating of the screw, repeated screw installations and prevents galling. Nypatch® hardware also resists vibration and maintains holding power.
In house proprietary black oxide process produces a fine glossy finish while increasing holding power and resisting corrosion.
Opposing screws balance the two-piece coupling to reduce vibration and have higher speed capabilities.
Keyways are available as a standard in two-piece rigid couplings. Step bore combinations including inch to metric are also available.
Rigid couplings are available in a variety of sizes and materials including lead-free steel, stainless steel, and high grade aluminium (for low inertia).
| Brand | Item code | Description | Stock |
| --- | --- | --- | --- |
| RULAND | MCLC-25-25-F-RULAND | RUL Rigid coupling one-piece clamp with keyway, bo | |
| RULAND | MCLX-15-15-F-RULAND | RUL Rigid coupling one-piece clamp. bores 15x15mm. | In stock |
| RULAND | MSPX-15-15-F-RULAND | RUL Rigid coupling two-piece clamp. bores 15x15mm. | |
| RULAND | MCLC-12-12-F-RULAND | RUL Rigid coupling one-piece clamp with keyway. bo | In stock |
| RULAND | MCLC-16-16-F-RULAND | RUL Rigid coupling one-piece clamp with keyway. bo | In stock |
| RULAND | MCLC-20-20-F-RULAND | RUL Rigid coupling one-piece clamp with keyway, bo | In stock |
| RULAND | MCLX-14-14-F-RULAND | RUL Rigid coupling one-piece clamp. bores 14x14mm. | In stock |
| RULAND | MCLX-16-16-F-RULAND | RUL Rigid coupling one-piece clamp. bores 16x16mm. | In stock |
| RULAND | MSPC-30-30-F-RULAND | RUL Rigid coupling two-piece clamp with keyway. bo | In stock |
| RULAND | MCLC-50-50-F-RULANDS | *Coupling | |
| RULAND | MCLX-20-20-F-RULAND | RUL Rigid coupling one-piece clamp. bores 20x20mm. | In stock |
| RULAND | MCLX-30-30-F-RULAND | Ruland Rigid Coupling | In stock |
| RULAND | MCLX-6-6-F-RULAND | RUL Rigid coupling one-piece clamp, bores 6x6mm, s | In stock |
| RULAND | MCLX-35-35-F-RULAND | ruland rigid coupling | |
| RULAND | CLX-16-16-F-RULAND | RULAND Steel Rigid coupling with bore of 1" dia | |
| RULAND | MBC25-6-6-A-RULAND | RIGID COUPLING | |
| RULAND | MCLC-14-14-SS-RULAND | RULAND - Coupling | |
| RULAND | MCLC-16-16-SS-RULAND | RUL Rigid coupling one-piece clamp with keyway. bo | In stock |
| RULAND | MCLC-20-20-SS-RULAND | 20mm bore stainless steel rigid coupling | In stock |
| RULAND | MCLC-25-25-SS-RULAND | RUL Rigid coupling one-piece clamp with keyway, bo | In stock |
| RULAND | MCLC-30-30-F-RULAND | RUL Rigid coupling one-piece clamp with keyway, bo | In stock |
| RULAND | MCLC-40-40-F-RULAND | *Coupling | |
| RULAND | MCLC-40-40-F-RULANDS | *Coupling | |
| RULAND | MCLX-10-10-F-RULAND | RUL Rigid coupling one-piece clamp, bores 10x10mm, | In stock |
| RULAND | MCLX-10-10-SS-RULAND | RUL Rigid coupling one-piece clamp, bores 10x10mm, | In stock |
| RULAND | MCLX-12-12-F-RULAND | RUL Rigid coupling one-piece clamp, bores 12x12mm, | In stock |
| RULAND | MCLX-12-12-SS-RULAND | RUL Rigid coupling one-piece clamp, bores 12x12mm, | In stock |
| RULAND | MCLX-25-25-F-RULAND | RUL Rigid coupling one-piece clamp. bores 25x25mm. | In stock |
| RULAND | MCLX-6-6-SS-RULAND | RUL Rigid coupling one-piece clamp, bores 6x6mm, 3 | In stock |
| RULAND | MCLX-8-8-A-RULAND | RUL Rigid coupling one-piece clamp, bores 8x8mm, a | In stock |
| RULAND | MCLX-8-8-F-RULAND | RUL Rigid coupling one-piece clamp, bores 8x8mm, s | In stock |
| RULAND | MCLX-8-8-SS-RULAND | RUL Rigid coupling one-piece clamp, bores 8x8mm, 3 | In stock |
| RULAND | MSPC-12-12-F-RULAND | RUL Rigid coupling two-piece clamp with keyway. bo | In stock |
| RULAND | MSPC-12-12-SS-RULAND | RULAND - Coupling | |
| RULAND | MSPC-16-16-F-RULAND | RUL Rigid coupling two-piece clamp with keyway. bo | In stock |
| RULAND | MSPC-20-20-F-RULAND | *Two Piece Rigid Coupling | In stock |
| RULAND | MSPC-25-25-F-RULAND | Ruland Coupling | In stock |
| RULAND | MSPC-40-40-F-RULAND | RUL Rigid coupling two-piece clamp with keyway. bo | In stock |
| RULAND | MSPX-10-10-F-RULAND | RUL Rigid coupling two-piece clamp. bores 10x10mm. | In stock |
| RULAND | MSPX-12-12-F-RULAND | RUL Rigid coupling two-piece clamp. bores 12x12mm. | In stock |
| RULAND | MSPX-12-12-SS-RULAND | RUL Rigid coupling two-piece clamp. bores 12 x 12m | In stock |
| RULAND | MSPX-14-14-F-RULAND | RUL Rigid coupling two-piece clamp. bores 14x14mm. | In stock |
| RULAND | MSPX-16-16-F-RULAND | RUL Rigid coupling two-piece clamp. bores 16x16mm. | In stock |
| RULAND | MSPX-20-20-F-RULAND | RUL Rigid coupling two-piece clamp. bores 20x20mm. | In stock |
| RULAND | MSPX-25-25-F-RULAND | RUL Rigid coupling two-piece clamp. bores 25x25mm. | In stock |
| RULAND | MSPX-30-30-F-RULAND | RULAND Rigid coupling in steel. 30mm bore | In stock |
| RULAND | MSPX-35-35-F-RULAND | Ruland Rigid Coupling 35mm Bore | In stock |
| RULAND | MSPX-8-8-F-RULAND | RUL Rigid coupling two-piece clamp. bores 8x8mm. s | In stock |