Ruland Set Screw Shaft Collars
Ruland's Set Screw Shaft Collars are available in a vaiety of materials: steel and stainless steel, from 4mm bore up to 50mm bore. Please contact our coupling & drives division if you have a requirement for different sizes and materials.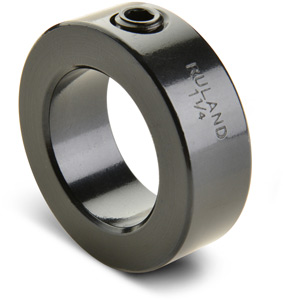 Set Screw Shaft Collars are the most effective when used on a shaft made of a material which is softer than the set screw. Ruland set collars are furnished exclusively with forged socket set screws for greater torque capacity and improved holding power. Forging of the stainless steel set screws has the additional benefit of work hardening, which results in stainless steel with elevated hardness and performance.