SKF automatic lubricators
SKF SYSTEM 24 LAGD Automatic grease lubrication 24 hours a day, 7 days a week.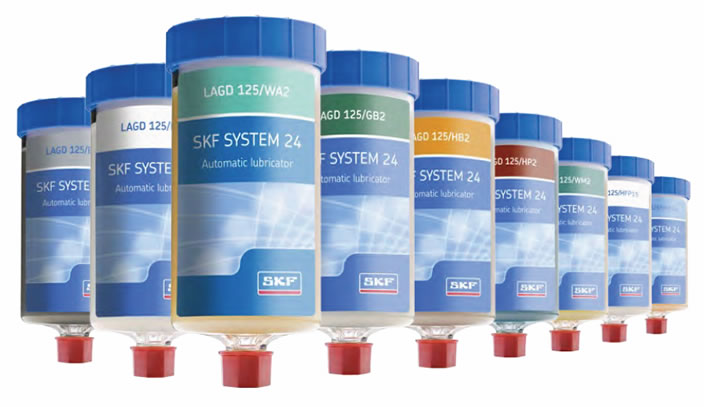 The SKF range of System 24 Automatic Lubricators offer a reliable, cost effective method of lubricating bearings.
LAGD 60 and LAGD 125 Automatic Lubricators
The LAGD series of the SKF System 24 family are automatic gas driven single point lubricators suitable for many applications. The units are supplied ready-to-use straight from the box and filled with a wide range of high quality SKF lubricants. Tool-free activation and time-setting allows easy and accurate adjustment of lubrication flow.
Gas driven lubricators available filled with various high quality SKF greases and oils, to suit a wide range of bearing applications.
Flexible time setting period ranging between 1 and 12 months
Wide operating temperature range to suit many applications
Wide range of accessories available
LAGE 125 and LAGE 250 Automatic Lubricators
The LAGE series of the System 24 family are single point electro mechanical driven automatic lubrication systems. Suitable for a wide range of applications and operating conditions, the units are reliable and flexible in operation. Supplied ready-to-use straight from the box and ease of installation makes the units a perfect complement to the comprehensive range of SKF automatic lubricators.
Electro mechanical drive for reliability in operation
Remote mounting of between 3 & 5 metres depending on lubrication type
Available filled with various high quality SKF greases and oils
Wide range of accessories available
TLSD 125 and TLSD 250 Automatic Lubricators
When a simple and reliable automatic lubricator is required under variable temperatures, or when the application conditions (such as vibration, limited space or hazardous environments)
require a remote mounting the TLSD series is first choice.
Temperature independent dispense rate
Maximum discharge pressure of 5 bar over the whole dispensing period
Dispense rate available in various settings
Transparent reservoir allows visual inspection
Red-yellow-green LEDs indicate the lubricator's status
TLMR 101 and TLMR 201 Automatic Lubricators
The TLMR is a single point automatic lubricator designed to supply grease to a single lubrication point. This lubricator can operate at long distances providing optimum results with difficult-to-reach and unsafe lubrication locations. The TLMR lubricator is suitable for operating conditions with various levels of temperature and vibration.
Temperature independent dispense rate
Maximum discharge pressure of 30 bar over the whole dispensing period
Available in two versions: TLMR 101 powered by batteries (standard Lithium AA type) and TLMR 201 powered by 12–24 V DC
Available with non-refillable cartridges in two sizes:120 and 380 ml
SKF's LAGD 400 and LAGD 1000 MultiPoint Automatic Lubricator
The Multipoint Automatic Lubricator is designed to simultaneously feed several points. A user-friendly and cost-effective option when longer distances, high flow, or enhanced monitoring features are required.These ready-to-use centralised lubrication systems can be installed without any additional assistance and require no special training to be configured.SKF's LAGD 400 has now been replaced with the TLMP MultiPoint Automatic Lubricator
Download the SKF maintenance and lubrication product catalogue or contact your nearest Acorn Branch for more information.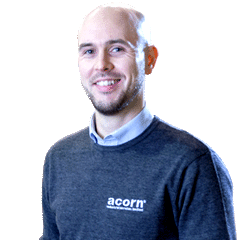 Need some advice?