Timken Split Roller Bearings
Timken split roller bearings have been developed to help increase operational life whilst reducing maintenance costs.
Available in a range of different housing styles, Timken split roller bearings are ideal for use in a wide range of industries, including mining and quarrying, cement, chemicals, metals, marine, oil, and pulp and paper. There are also eight seal designs to choose from, offering ultimate customisability.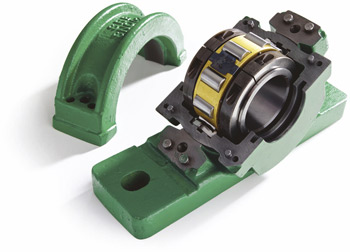 Timken split roller bearings can reduce fitting time by up to 90%. The split feature enables the bearing to be built around the shaft, without requiring access to the shaft ends. This could save hundreds of pounds of maintenance costs, and hours of unnecessary downtime.
Capable of handling high speeds, a wide range of temperatures, vibration and shock loads, there is a configuration available for most applications.
Retained Type Bearing (BR)
The retained split roller bearing features integral lips on the outer race, which provide a surface for axial load. Hardened clamp rings on the inner race accommodate the axial load, as well as aligning the inner race halves and providing roller guidance.
Expansion Type Bearing (BX)
The expansion split roller bearing is designed for radial loads only. Hardened clamp rings guide the rollers on the inner race, and during expansion or contraction of the shaft, the rollers are able to move across the plain outer race, therefore offering virtually no resistance to axial movement.