Made to drawings
Should your application require a specially manufactured bearing with bespoke sizes, load or speed ratings, Acorn can help. We offer a rapid, practical and creative custom-made solution for your application.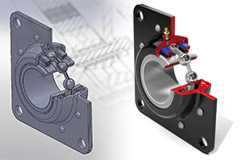 Our highly experienced engineering associates have many years experience in developing special bearings and systems for industries including:
Pumps
Heavy machinery
Railway vehicles
General machinery
Industrial gearboxes
and more
Please contact Clive Simkins - our rotary specialist, to discuss your specific requirements in detail. Telephone 0800 8766 441, or alternatively send us your enquiry and we will contact you.