Adrian Celebrates 30 Years with ACORN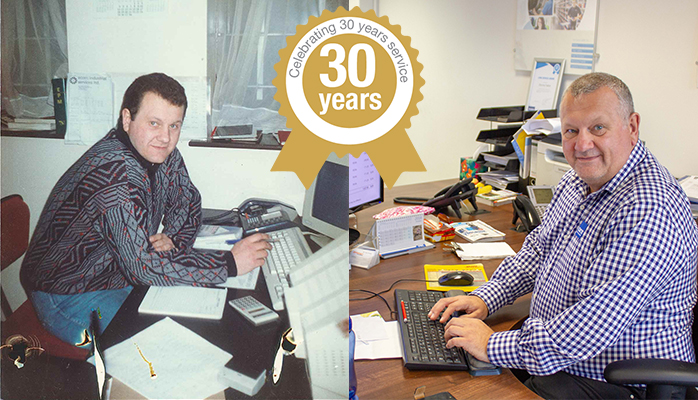 The year is 1988. There are no mobiles, computers are still relatively new and CDs have only been a 'thing' for 5 years. There's no such thing as social media, 'The Only Way Is Up' by Yazz is playing on the radio, and the likelihood is that you've been to see Die Hard in the cinema twice already.
Acorn Industrial Services is a mere 5 years old and our now Purchasing Manager, Adrian Biggs is probably cheering on David Hirst with a pint down at Hillsborough stadium after securing a job with ACORN (when you could still enjoy a beer with the footy!). To celebrate Adrian's 30th year at Acorn, we spoke to him about his time here and how much has changed in such a short space of time.
Firstly, the big question - How has the business changed over the last 30 years?
I think the biggest difference is that back in the 80s, particularly when the company was young, there were less regulations (meaning the world wasn't as concerned with health and safety!) which basically meant there was a lot more 'mucking about'.
Which has been your favourite premises and why?
Ashley Industrial Estate may not have been the 'best' but it was definitely my favourite as it was next door to Underwoods, the butchers. The lads that worked there were a great laugh and even used to help us with 'initiations' of new employees…
How has your job role evolved over the 30 years?
When I first started, nobody really had a set job role as the company only had 6 employees, so everybody kind of mucked in with a bit of everything. It just so happened that people's natural abilities seemed to lead them to certain job roles - which is how I ended up in Purchasing.
What has been your favourite exhibition or trip?
Favourite trip has to be when we visited China. As we purchased stock from there, we went out to visit the factories the products came from. Seeing the conditions they worked in really opened my eyes and gave me a lot of respect for the products and their production processes.
In recognition of this milestone, Managing Director, Des Spillings says "Having worked with Adrian for 23 years at ACORN he is, for me, the spirit of the business. Always ready to help yet still full of new ideas. His knowledge of MPT products is absolutely second to none and he should also be recognised for his work with ISO 9001. Good fun, likes a beer and a Wednesday fan – what's not to love!"
Congratulations to Adrian for 30 years service, and we wish you many more happy years with us.