NEW PRODUCT TRAINING COURSES NOW AVAILABLE FROM ACORN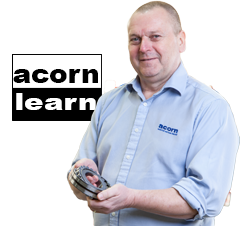 Whether you want to learn the basics or brush up on your product knowledge. ACORN-LEARN training has something for you.
We've organised three training dates to be held at our training facilities in Rotherham.
4th July - BEARINGS - THE BASICS
Discover the different types of bearings and their features and benefits - Ideal for new employees or if you need a refresher. Book now
12th September - BEARINGS - MODERATE LEVEL
We go into a little bit more technical detail this time and include; SNL Housings, Self Lube Bearing Units, Sphericals and Taper Roller Bearings. Book now
3rd October - MAPRO MAINTENANCE PRODUCTS/INTERACTIVE
You'll be getting to grips in this hands-on training session, looking at the various maintenance products available, learning about the best techniques on how to use them and trying them out for yourself. Book now
The training will cost £85 per person per day and will include refreshments and lunch.
DONT HANG AROUND, RESERVE YOUR PLACE TODAY!