ACORN News Updates COVID-19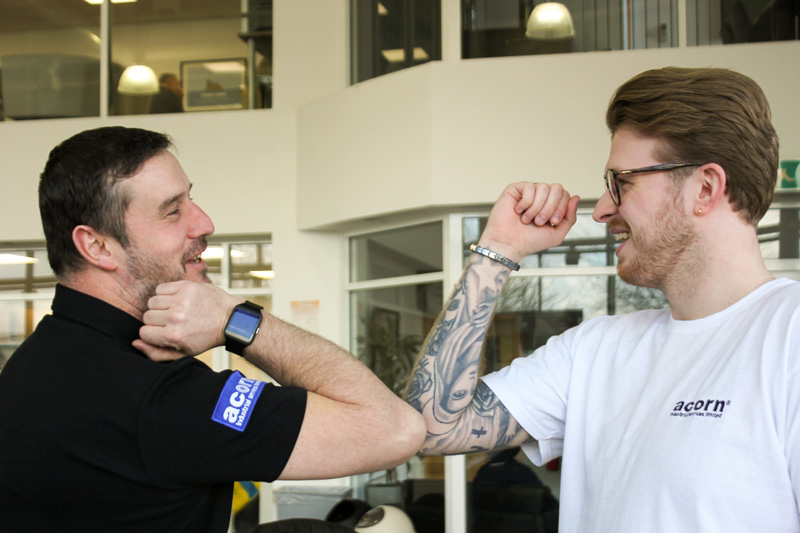 ACORN is continually looking at ways in which we can help customers through this difficult time, whilst keeping our staff safe. The situation is fluid and things are changing rapidly, however, ACORN is dynamic and we pride ourselves on our ability to react quickly to unfolding events – whatever those events may be. Let us reassure you, we are here for you. Our staff have been well informed on hygiene guidelines and what to do to minimise risk, both to themselves, and to others. We're keeping close watch on them whilst having both eyes firmly fixed on helping customers with their business.
Please visit this post regularly to see updates and if you subscribe to our emails, we will keep you informed on what's happening, special offers etc.
---
05-01-2021 ACORN CONTINUES TO SUPPLY THROUGH THIRD LOCKDOWN
Acorn is working at full speed to continue to supply you and your customers from our stock of 6 millions MRO products. The latest lockdown restrictions mean we will be unable to accept visitors on site, our Rotherham trade counter remains open for collections.
All customers are required to wear a mask upon entry of the building and are asked to santise hands when entering and leaving the trade counter area. Our staff are now also required to wear a face covering when moving thoughout the building.
Read Acorn's full COVID-19 statement here.
---
20-11-2020 SCOTLAND BRANCH COLLECTION ONLY
Following new resitrictions being imposed on parts of Scotland from mindnight tonight, our Bathagte branch trade counter will now be closed to the public and operating a collection service, upon ordering customers will be given a collection time for their items.
Additionally, all deliveries will now be contact free, customers will be notified when the driver arrives before having their items dropped outside of the building. For more information, contact our Bathgate branch.
---
04-11-2020 WE'RE HERE FOR YOU NO MATTER WHAT
Acorn are running at full speed to get orders to you and your customers, you can depend on us to offer:
6 million MRO items in stock
Increased stock to meet customer demand
Same-day delivery options available
Product experts on hand to offer expertise and technical support
Trade counters are COVID-safe and continue to operate for drop-ins and collections.
24/7 online ordering available
Call out service: 07970 789 978
Don't forget we are offering reduced direct shipping rates!
We've reduced our direct shipping charges to aid customers who may be struggling to get orders to their customers while the COVD-19 pandemic remains ongoing. If you are working from home or are suffering with staff shortages, you can send goods direct to your customer via our online webshop – hassle free. If you want to know more about any of our services, just give us a call. +44 (0)1709 789 999.
---
17-09-2020 VISTORS WELCOMED BACK ON SITE
We are pleased to begin offering on site visitors for our customers again, although we ask that all customers wear facemasks when on site and clean and sanitise hands wherever possible.
Our vistor guidelines are as follows:
BEFORE ENTERING THE BUILDING PLEASE ENSURE -
You are ready to have your temperature checked at Reception
You have completed the 'Visitor Questionnaire"
You are wearing a face mask or covering upon entry
You have sanitised your hands
WHILE VISITNG THE SITE PLEASE ENSURE -
You are wearing a face mask or covering in all areas of the building (unless specified)
You are keeping 2m distance from other wheere possible
You only use disposable cups for drinks
You wash your hands regularly
---
02-06-2020 ROTHERHAM TRADE COUNTER RE-OPENS
We are delighted to re-open our trade counter at Rotherham, we have fitted safety screens to protect both customrs and staff and we kidly ask that no more than 3 customers enter the area at a time.
---
16-04-2020 DELIVERY VANS STILL IN OPERATION
ACORN delivery vans up and down the country are still delivering to businesses and keeping industry moving.
With all Acorn branches still in operation, our delivery drivers are helping to keep industry up and running - from distribution to manufacturing.
06-04-2020 MIDLANDS & SCOTLAND BRANCHES RE-OPEN
The Midlands & Scotland branches have now re-opened and are back up to full speed offering their usual FREE delivery or collection service after a brief period of closure.
Remember, if you're working from home you can always check stock and place your orders online, while direct shipping to your customer is also available. If you prefer direct delivery, our delivery driver can bring your orders to you and can offer contactless delivery however, if you wish to collect, you must arrange a pre-booked collection slot when ordering.
---
27-03-2020 ACORN RELEASE STATEMENT ON MEASURES BEING TAKEN TO SUPPORT CUSTOMERS
The challenges that we are facing today, both in the UK and across the globe are unprecedented. In times like this, it is important that we pull together and support one another wherever possible. We need to prioritise health, as well as keeping the world's most critical equipment moving.
---
25-03-2020 PAYPAL BUYING OPTION NOW AVAILABLE ON ACORN EXPRESS
We have now added Paypal as a payment method for Proforma customers on AcornExpress to make ordering online as hassle-free as possible. AcornExpress enables you to check stock and order items quickly and and easily, as well as offering:
175,000 product lines
500+ Manufacturers
Live Inventory
More choice - Over 100,000 product alternatives!
Buy anytime, from anywhere - Open 24/7
Worldwide Same-day dispatch available up to 19:30 CET
Direct shipping using customer specific logo delivery notes.
Consolidated Shipments available
Customer specific - Customised Pricing and Logistics
Volume - Quantity Break pricing
Log in and order with paypal any time of the day.
---
24-03-2020 CARRIER UPDATE
UK carrier companies TNT & FedEX are currently reporting business as normal. We are managing to get some shipments through to Italy and Spain.
---
23-03-2020 SAFEGUARDING ACTIONS
To help minimise unnecessary risk, the following precautions have been put in place:
To safeguard customers and staff, we have decided to closed on Saturday mornings until further notice.
All branches will now be operating a 'pre-arranged collections only' policy on Trade Counters and will be using correct preventative measures. Please telephone your local branch for more information.
---
19-03-2020 DIRECT SHIPPING MIGHT BE THE WAY TO GO
We've reduced our direct shipping charges to aid customers who are now struggling to get orders to their customers. If you are working from home or are suffering with staff shortages, you can send goods direct to your customer via our online webshop – hassle free. If you want to know more about any of our services, just give us a call. +44 (0)1709 789 999
---
18-03-2020 FREE NEXT DAY CARRIAGE NOW AVAILABLE WHEN YOU BUY ONLINE
We believe we have a duty of care for all our customers and we want to make sure you and your business is equipped and prepared for whatever it may need. We are currently working even harder to ensure continuous supply & support to our customers. We are now offering free next day carriage to customers using the online webshop.
---
17-03-2020 KEEPING THINGS MOVING
It's business as usual at ACORN. We have an enormous amount of stock and can send goods to anywhere in the world. Whether you're at work or at home, you can still check stock and place your orders 24/7 via our online shop. You can access it from wherever you are - all you need is a login. if you don't currently have one,you can apply by clicking the login link on the site.
If you have any suggestions on how we can help your business in these testing times please give us a call.
---