SKF announces availability of its new SKF Idler Sound Monitor Kit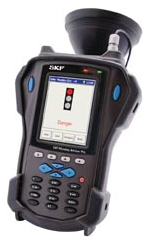 SKF has announced the availability of its new SKF Idler Sound Monitor Kit, an easy to use, rugged and handheld monitoring device for early detection of faults in conveyor belt idlers. Conveyor idlers support the length of the conveyor belt and are a common cause of belt damage and production downtime. SKF's Idler Sound Monitor Kit is perfect for monitoring conveyor idlers used in heavy industries such as aggregates, cement, metal ore, coal and minerals processing. The kit can also be used to monitor conveyors in steel mills, as well as pulp and paper mills and other material handling systems, such as airport luggage handling.
Equipped with acoustic enveloping technology, the SKF Idler Sound Monitor Kit distinguishes between the sounds of a good idler and a faulty one even in high ambient noise environments. The device detects faulty idlers earlier, more reliably and safer than if a manual operation was conducted by listening or observing for faulty idlers.
The SKF Idler Sound Monitor Kit has a simple visual display, headphones and audible condition alarm. The unit's ease of use gives even inexperienced workers the ability to detect faults with minimal training. The unit allows for easy data download for subsequent review.
For further information please contact your nearest Acorn Branch