Your invitation to the virtual launch of SKF Food Line ball bearing units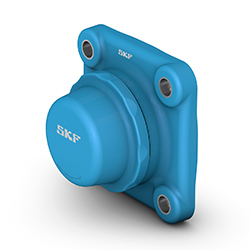 There is no greater priority in the food and beverage industry than food safety. Strict cleaning regimes are in place to prevent food borne pathogens from entering produce, and the consequent product recalls which are both costly and damaging to the brand.
SKF have teamed up with independent microbiology and hygiene experts to revolutionise food safety with their new Food Line ball bearing units. These units have been designed with the highest standards of hygiene in mind, whilst providing outstanding reliability in areas subjected to high levels of contamination and frequent high pressure washdowns.
As a preferred supplier for SKF Food Line, we would like to invite you to the virtual conference and launch of SKF's new Food Line ball bearing units on the 30th January 2019. The event will be running from 7am – 4pm GMT, with technical details and proofs available directly from the developers and food safety talks from the experts. It's a flexible event, so arrive and leave when you choose.
It's not just Food Line units either; you will also receive expert advice on how you can achieve cost savings, increase uptime and meet environmental targets.
Register for the event today to secure your place (opens new window).
Don't forget to request your free* pair of completely sealed Food Line ball bearing units when you join the online event, so that you can really put them to the test.
ACORN is an official stockist of SKF Food Line bearing units. This preferred supplier status, coupled with our extensive product knowledge, means that ACORN is perfectly placed to provide guidance to the food & beverage industry. Contact our friendly sales team today to discuss your application requirements.
Download your official invitation here. (opens new window)
---
Don't miss out, subscribe to our emails and get the latest Tips, How-To's, Special Offers, and Industry & Company News!