Flywheel coupling
As an authorised distributor for KTR Couplings we offer the KTR BoWex® flywheel coupling.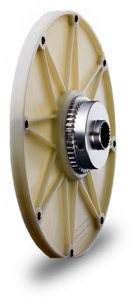 The flywheel coupling is a torsionally rigid coupling, often found in applications such as cranes, harvesting machines and floor conveyors. Its nylon and steel composition means that it is maintenance free, as well as having high mechanical resistance, and the ability to withstand temperatures of up to 130°C
Features of the flywheel coupling include:
High torsional stiffness – operation free from resonance
Available up to an engine power of 2,500 kW
Maintenance free due to the nylon and steel material combination
Nylon flange with high mechanical resistance and thermal strength (+ 130oc)
Compact measurement
Simple assembly through axial plug-in
Special mounting flanges available
Contact our dedicated couplings centre for more information on flywheel couplings, or if you require assistance choosing the right coupling for your application.