Industry solutions
ACORN® has many year of experience in supporting industry through a broad range of MRO product and services. Authorised distributors for many world leading brands, ACORN stocks a broad range of products, our product managers are specialists in their particular product areas and can provide expert advice to help you improve the efficiency of your machinery and auxiliary equipment to maximise output.

Construction
The construction industry is no stranger to heavy shock loads and vibration. In these harsh environments, it has become almost expected for machine components to fail regularly. This doesn't have to be the case.

Food & beverage
Acorn stocks a large range of products that are ideal for the food and beverage industry. Products that are great for washdowns, high and low temperature applications and that are easy to clean and made from food-safe materials.

Marine
The rapid technology advancements that we have seen on land have also been mirrored in the marine industry – with their own set of challenges. Rising fuel costs, increasingly stringent environmental regulations and growing health and safety concerns mean that application design, maintenance and repair in the industry is no easy task.
Find out more about our products and services for the Marine Industry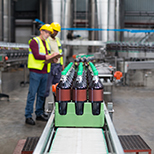 Packaging
The packaging industry presents unique challenges, from difficult operating conditions to sustainable operation. Find out how ACORN can help you to overcome these challenges.

Pharmaceutical & Medical
Product quality and safety is paramount within the pharmaceutical & medical sectors, in order to avoid product recalls and the potential for prosecution, which are both costly and extremely damaging to the brand image. All components used within the industry must be compliant with industry requirements.
Find out more about Pharmaceutical & Medical products & services

Recycling
A broad range of products suitable for the recycling industry, from pillow block bearing units and condition monitoring systems, to conveyor belts and electric motors. Our product experts are here to ensure that you find the perfect solution for your application.
Find out more about products and services for the Recycling Industry

Rewinders
Electric motor rewinders face tougher and tougher challenges. With businesses happy to pay less and less for their motor rewinding, and the market becoming more competitive every day, a careful balance is required between cost and quality.

Wind Energy
The priorities of the wind industry are simple: improve energy production, whilst reducing costs. This is achieved by utilising the most reliable, but also the lightest components, as well as monitoring the turbines to proactively detect issues before they occur.
Find out more about our products and services for Wind Turbines