Beam couplings

Acorn offer three different series of Ruland flexible beam couplings in either metric or imperial dimensions and with bores from 3/32" (3mm) to 3/4" (20mm).
Contact our dedicted coupling centre for further details or if you require assistance.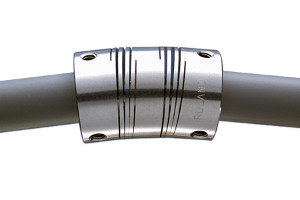 Ruland Flexible beam couplings are machined from a single piece of aluminium or stainless steel and feature multiple helical cuts. The multiple cut design provides higher torque capabilities and greatly reduced wind-up when compared to commodity type single beam couplings.
Why choose a Ruland Coupling?
Higher torsional rigidity compared to commodity style single-beam couplings.
Unique balanced clamp screw design reduces vibration while the cross cut increases clamping ability.
Machined from a single piece of aluminium or stainless steel with multiple spiral cuts for higher torsional stiffness and torque capabilities.
Accommodates parallel misalignment, angular misalignment and axial motion.
Two sets of cuts around centre member better accommodate parallel misalignment then single beam couplings.
Four beam and six beam couplings offered. Four beam couplings are more flexible with lower bearing loads. Six beam couplings have increased torque capacity and higher torsional stiffness.
Aluminium couplings made from type 7075 aluminium for longer life.
Stainless steel couplings offered for greater torque capacity.