Heavy Duty Telescopic Rails
A range of Telescopic rails are available from stock to suit most applications. The TRI range is Ideal for heavy duty drawer runners, sliding machine safety doors and seats to mention just a few.
We stock a wide range of TRI telescopic rails - single extension and full extension slides. Scroll down to see our stocked items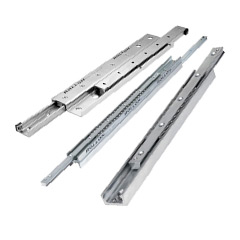 Used in a wide range of industries, such as railway, aerospace, medical, logistics, special vehicles, industrial machines, building industries, as well as the most demanding home and business furnishing.
High loads in combination with cost efficiency and free movement have long been the outstanding properties of the Telescopic Rail product line.
To speak to a linear specialist regarding this range, please contact our linear division, or your nearest branch.
We can offer telescopic rails in full extension or partial extension to suit most applications and budget. Thomas Regout (TRI) runners are held in stock and we can supply Rollon Telescopic slides to order.
CAD files and data sheets are available for each rail by clicking on the item numbers below