Bellows couplings

Acorn offer six sizes of Ruland bellows couplings, with set screw or clamp style hubs and imperial or metric bores ranging from 1/8" (3mm) to 1" (25mm). If required, we can also offer stainless steel hubs, keyways, and other custom features are available by special order.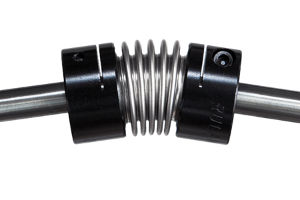 Ruland Bellows Couplings offer superior performance in motion control applications due to their combination of stainless steel bellows and black anodized aluminium hubs. The stainless steel bellows make Ruland's bellows ideal for transmitting torque. Due to the bellows' thin walls, the coupling is able to flex easily while remaining rigid under torsional loads. Parallel misalignment, angular misalignment and axial motion are accommodated by the bellows coupling.
An important feature of the bellows coupling is a balanced design to reduce vibration in high rpm applications of up to 10,000 rpm. The combination of aluminium hubs with the bellows results in an extremely lightweight, low inertia coupling. Zero backlash and a long, maintenance-free life are assured since the bellows coupling has no moving parts. Bellows couplings are especially suited for high-end servo, stepper, encoder and positioning applications.
Unique balanced clamp screw design reduces vibration while the cross cut increases clamping ability.
Ruland uses an epoxy adhesive to join the bellows to the hubs to eliminate the risks involved with welding.
Multi-ply stainless steel bellows are used for added strength and long maintenance-free life.
The thin walls of the hydro-formed bellows maintain low bearing loads and flexibility while remaining rigid under torsional loads.
Accommodates parallel misalignment, angular misalignment and axial motion.