5 things you should know about the RotaLube Inaccessible Chain Lubrication Kit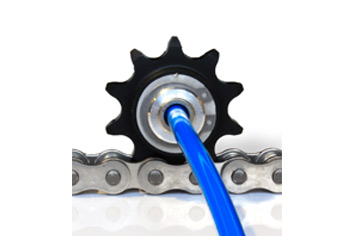 The RotaLube® Inaccessible Chain Lubrication Kit is promoted as being the ultimate maintenance solution for chain-driven applications. It enables engineers to lubricate chain safely & effectively whilst machinery is in operation, without the need to remove guards.
But the question on everyone's mind: Does it really live up to the hype? There are five things that we think you should know about this product, before you decide whether to invest.
1. How does it actually work?
The Inaccessible Chain Lubrication Kit consists of a RotaLube sprocket which is mounted onto the drive using an L-shaped bracket and meshes with the chain. The sprocket is then connected to a flexible pipe, which is secured to a double ended connector, outside the chain guard. When lubrication is required, an aerosol can be quickly connected to the pipe and sprayed onto the chain through the sprocket, enabling lubrication to be applied easily and safely.
Diagram of RotaLube set up
2. The impact on downtime
No matter which industry you operate in, reducing downtime is bound to be a priority. The RotaLube Inaccessible Chain Lubrication Kit allows chain drives to be lubricated during operation, without the need for downtime. This helps you to maximise production and reduce overheads.
3. The implications on lubricant consumption
When using RotaLube's Inaccessible Chain Lubrication Kit, lubricant is targeted at the areas where it is really needed. This means that lubricant is not lost on areas which do not require it, helping to minimise wastage. This reduces costs to the business whilst improving sustainability.
4. The impact on worker safety
Ensuring worker safety is a priority in every industry, with a large percentage of accidents occurring during maintenance. The RotaLube Inaccessible Chain Lubrication Kit allows chain drives to be lubricated during operation, without needing to remove the chain guard, helping to ensure worker safety during lubrication.
5. The effect on component service life
The RotaLube sprocket is a controlled applicator which is not subject to wear, maintaining accurate lubrication whatever the condition of the chain. The chain benefits from an even distribution of lubricant, and the ease of lubrication means that it can be carried out regularly without incurring downtime. This helps to extend the service life of the chain as lubrication levels are more likely to be optimum.
At ACORN, we stock both British Standard and ANSI RotaLube Inaccessible Chain Lubrication Kits to suit a vast assortment of chain sizes, including 3/8", 1/2", 5/8", 3/4" 1" and 1.1/4" Simplex.
If you are considering the RotaLube Inaccessible Chain Lubrication Kit, our knowledgeable sales team can help. Contact us today to see how this product could work for your application.