ACORN Announces New Sales Director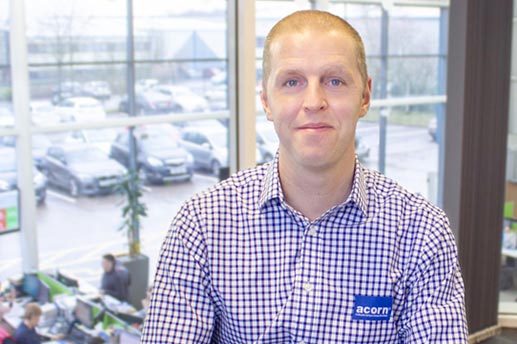 Gavin Stacey has been announced as the new Sales Director of Acorn Industrial Services Ltd.
This promotion follows 23 years of experience within the business for Gavin, who previously held the title of UK Sales Manager. Commencing in his new role from 1st January 2019, Gavin will oversee all sales activity within the business, both within the UK and overseas.
When asked about his new role, Gavin said: "I have worked at ACORN for 23 years, covering a variety of roles in that time, and my promotion to Sales Director is my proudest achievement yet. I see my new position as providing support to the business, and I am looking forward to continuing to help to drive growth through sales in my new role."
The move to promote Gavin Stacey into this role follows the company strategy of promoting from within the business wherever possible and practical.
ACORN's Managing Director, Paul Spillings, said: "Gavin and I started at ACORN around the same time and I have seen Gavin move through the business in the right way. Starting in the warehouse, progressing to a purchasing role, then into sales management and finally Sales Director. The promotion for Gavin is well deserved and I would probably say long overdue. He has been pivotal to ACORN for many years and I am sure he will be an even more important part of our growing company over the coming years."
Acorn Industrial Services Ltd provides full service supply solutions on engineering components to an international customer base. Their impressive stockholding of over six million items is available from regional distribution centres throughout the UK.
Acorn Industrial Services Ltd is part of Axel Johnson International, a privately owned Swedish industrial group of more than 90 companies in 25 countries, with combined annual sales of €750 million. Axel Johnson International drives business development and growth through a long-term approach to ownership in strategic niche markets, primarily technical components and solutions for industrial processes. Axel Johnson International is organised in four business groups: Cargo Securing Solutions, Fluid Handling Solutions, Industrial Solutions and Lifting Solutions.
---
Don't miss out, subscribe to our emails and get the latest Tips, How-To's, Special Offers, and Industry & Company News!