Brands in the spotlight: ContiTech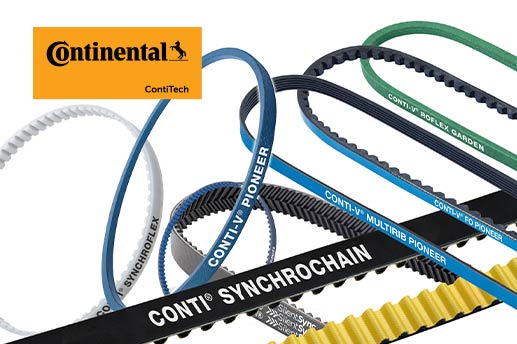 Part of the Continental Group, ContiTech is the world's leading specialist for rubber and plastics technology, and they put this to good use in manufacturing premium quality industrial belts. You've probably heard of the name, but do you know everything that there is to know about ContiTech?
In this article, we'll shine a spotlight on the real ContiTech, telling you everything there is to know about this world-leading company and the products that they offer.
Tell me more about ContiTech
ContiTech is renowned for its innovative development of rubber and plastics technology. This enables ContiTech to create pioneering industrial belts which consistently outperform its competitors.
Employing around 30,000 people in over 30 different countries across the globe, ContiTech is a globally recognised leader in the power transmission industry. It's key focus is on sustainable operation and environmentally-friendly solutions, which improve machine performance and increase application efficiency across every industry.
What products does ContiTech offer?
ContiTech manufactures premium quality power transmission belts which are used in every industry across the globe. Let's take a look at some of the different types of industrial belts manufactured by ContiTech.
ContiTech V-Belts
Not content with just one standard v-belt, ContiTech manufactures a wide range of v-belts, with options available to suit every industry and application. The ContiTech range of v-belts includes:
CONTI®V wrapped classical v-belts
CONTI®V NARROW wrapped classical wedge belts
CONTI®V FO raw edge cogged v-belts
CONTI®V FO NARROW raw edge cogged wedge belts
CONTI®V INSTA-POWER lawn mower belts (Previously called ROFLEX GARDEN)
CONTI®V DUAL hexagonal belts
CONTI®V MULTIBELT banded v-belts
ContiTech Timing Belts
ContiTech timing belts are designed to perform, consistently outlasting competitor belts to deliver long lasting performance in every industry. With maintenance free operation and up to 99% drive efficiency, these belts have been carefully designed to extend uptime and promote productivity.
The ContiTech range of timing belts includes:
CONTI® SYNCHROFORCE metric timing belts
CONTI® SYNCHROBELT imperial timing belts
CONTI® SYNCHROTWIN double sided timing belts
CONTI® SILENTSYNC helical offset tooth timing belts
ContiTech Poly-v Ribbed Belts
For compact drives which require reliable performance at high speeds, CONTI®V MULTIRIB is ideal. This innovative belt combines the high flexibility of flat belts with the effective power transmission capacity of V-belts, providing power transmission solutions to even the most complex of drive requirements.
ContiTech Polyurethane Belts
For high powered applications with heavy-duty requirements, only the strongest belt will suffice. That's where ContiTech's range of polyurethane belts excel, delivering the highest levels of power in even the harshest of conditions.
These belts are resistant to oil, grease and fuel, as well as delivering a long service life. ContiTech's range of polyurethane belts includes:
CONTI® SYNCHROFLEX polyurethane timing belts
CONTI® SYNCHROCHAIN high-power polyurethane timing belts
CONTI® POLYFLAT flat belts
Where to buy ContiTech products
If you're thinking of choosing ContiTech for your next industrial belt, you're in safe hands with ACORN.
We are proud to have a close working relationship with ContiTech. This means that, in addition to our extensive stocked range, we are able to source replacement ContiTech belts quickly, so that you're never left struggling in a breakdown.
We have power transmission experts on hand who are perfectly placed to advise you on the best belt for your application requirements. We will take the time to get to know your business and your machinery to make sure that you're receiving the right product for your individual needs, whatever your priorities may be.
Contact us today to find out how ContiTech industrial belts could help to extend your uptime and enhance your productivity.