Brands in the spotlight: Tsubaki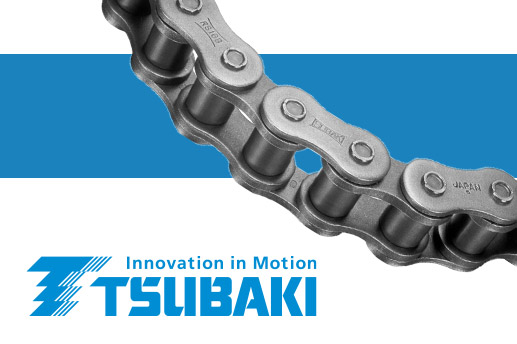 Tsubaki is best known for being a world-leading manufacturer of industrial chain, which is used in almost every industry across the globe. Its products are designed to stand up to the specific challenges faced by businesses.
But do you know everything there is to know about Tsubaki?
In this article, we will shine a spotlight on Tsubaki, exploring everything there is to know about this industry-leading company and the products that it offers.
Tell me more about Tsubaki
Founded in 1917, Tsubaki quickly made a name for itself as a pioneer of power transmission technology and has remained a world-leader in the field for over a century.
Tsubaki has a unique ability to understand the challenges faced by business in every industry. It then uses this knowledge to develop products which not only meet operational requirements, but also solve the distinctive problems that the industry faces.
If you're looking for exceptional levels of quality, combined with outstanding reliability, Tsubaki is a great choice when it comes to industrial chain.
What products does Tsubaki offer?
Tsubaki's customer-centric approach to product development has led to the introduction of an innovative and diverse varied product range. This range includes corrosion resistant chain for harsh operating environments and maintenance free chain for hard-to-access areas.
Let's take a look at some of the industry-leading power transmission products offered by Tsubaki.
Tsubaki GT4 Winner roller chain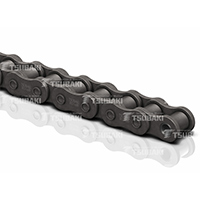 If you're looking for reliable performance that stands the test of time, Tsubaki GT4 Winner roller chain may be exactly what you're looking for. Thanks to Tsubaki's innovative Lube Groove solid bush design, GT4 Winner chain offers a 35% wear reduction, doubling the wear life offered by competitors. Not only that, but this chain also offers reduced maintenance requirements and enhanced service life – winner!
Tsubaki Lambda Lube Free roller chain
In 1988, Tsubaki became the first manufacturer in the industry to pioneer an oil impregnated bush that completely eliminated the need for relubrication. The chain using this technology was named Lambda Lube Free and has been leading the way in innovation for over three decades.
Supplied with NSF-H1 food grade lubricant as standard, Tsubaki Lambda Lube Free roller chain is ideal for use in the food and beverage industry, and in hard-to-reach locations where regular relubrication is impractical.
Tsubaki Neptune™ Anti Corrosion roller chain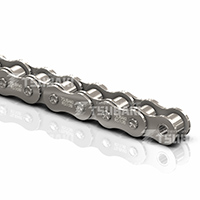 If you're operating in a harsh or contaminated environment, you'll need a chain that can stand up to the operating environment. This is exactly what Tsubaki Neptune™ Anti Corrosion roller chain does.
This chain has been carefully designed to enhance service life in even the harshest of operating environments, thanks to its outstanding resistance to corrosive chemicals, extreme temperatures and water. This makes Tsubaki Neptune™ ideal for use in the harshest industries, including chemicals, food & beverage, marine and packaging.
Tsubaki Heavy Duty roller chain
When you're dealing with heavy loads, only the strongest of chain will suffice. Tsubaki Heavy Duty roller chain has been specially designed to transmit the heaviest loads, making it ideal for use in harsh environments such as the mining and quarrying industry. This chain can also stand up to heavy impacts and shock loads, reducing downtime and extending service life.
Tsubaki Titan roller chain
It can be hard to keep downtime to a minimum when you're operating in harsh and contaminated environments, and regular breakdowns are both costly and disruptive. Tsubaki Titan roller chain helps to combat this issue, delivering increased wear life in even the most abrasive of environments.
Combining the exceptional features of GT4 Winner chain with other wear-resisting qualities, Tsubaki Titan chain works hard to deliver outstanding performance in harsh environments.
Tsubaki Attachment chain
If you're looking for flawless attachment chain operation, Tsubaki is a tempting offer. With over 1,300 attachments to choose from, this product is completely customisable to suit the unique requirements of your business.
A range of single and double pitch chains are available to choose from, including the maintenance free Lambda chain. This flexibility makes Tsubaki attachment chain a versatile choice for use in every industry and application.
Tsubaki Conveyor chain
Every application has its own unique challenges and requirements when it comes to conveyor chain, including the direction of travel, the operating environment and the media being transported. Tsubaki offers a flexible range of conveyor chain, ensuring it can meet any application requirement, whether you're transporting limestone from a quarry or glass within a recycling plant.
Where to buy Tsubaki chain
The range of Tsubaki chain is vast, with options available to suit every application and industry. But where is the best place to purchase Tsubaki chain?
At Acorn, we have a huge range of Tsubaki chain available from stock. Not only that, but our close working relationship with Tsubaki means that we're able to create bespoke orders to meet your exact specifications, whilst sourcing non-stock chain from the central Tsubaki warehouse quickly and efficiently.
If you're considering giving Tsubaki chain a try, we can help you to find the perfect industrial chain to meet your application requirements. Whatever industry you operate within, we will get to know your business, including the challenges you face, helping you to find the ideal solutions for your business.
For more information about Tsubaki chain, and to discover the perfect solution to your requirements, contact our product specialists today.