CASE STUDY: THK Linear Rail fitted to a Yeti 303 RDH Mountain Bike
Less than half an hour from the Severn Bridge, Cwmcarn has some great Downhill and Cross Country trails providing a sure-fire way for serious mountain bike riders to get their fix.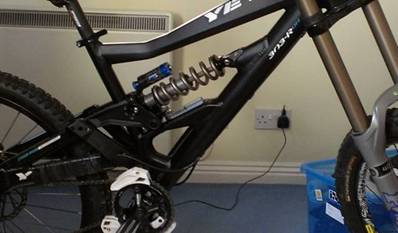 Roland Stack is one such rider, but after booking a weekend at Cwncarn, Wales, Roland discovered he needed to replace the linear rail on his Yeti 303 RDH mountain bike. The Patented linear rail technology allows Yeti Cycles to fine tune the leverage ratio independent of the reward wheel path, creating optimum suspension characteristics.
Following a search on the internet, Roland contacted Acorn Industrial Services to see if they could supply the linear rail. As Acorn is an authorised distributor for THK - The leading manufacturer of high quality linear rail - Roland could be sure he was getting top notch equipment for his Yeti 303. Acorn is able to cut the rail to any specified length and piece of THK's SHS 15 Linear Rail – 158mm long was specified. Acorn despatched the rail via overnight carrier as per Roland's instructions and Roland received the new rail the following day, enabling him to fit the replacement in time for his weekend at Cwmcarn.
Roland is now looking to replace the linear carriage sometime in the near future and says he will definitely use Acorn again.
We hope you had a great time downhilling Roland!
Richard Hewitt
Marketing Manager
www.acorn-ind.co.uk