Five reasons to choose Tsubaki GT4 Winner chain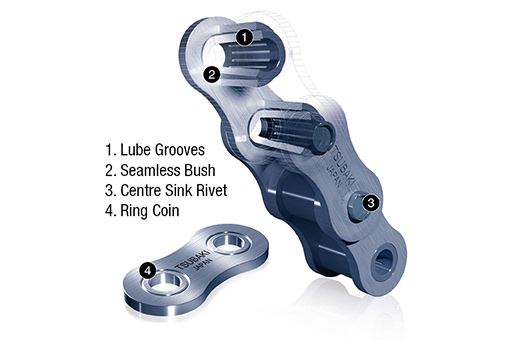 Renowned for its world class superiority and innovative design, Tsubaki power transmission chain is regarded as being inimitable in quality.
Here are five reasons why we think you should consider Tsubaki GT4 Winner chain for your power transmission application.
Superior service life
With up to 35% wear reduction when compared to competitor chain, it is clear to see the difference that Tsubaki GT4 Winner can make. This dramatic increase in service life leads to a lower total cost of ownership, as well as a reduction in downtime.
Lube Groove seamless bushes
The innovative design of Tsubaki Lube Groove seamless bushes means that lubrication is held in an internal reservoir, exactly where it is needed the most. This increases the chain's service life, whilst reducing maintenance requirements and lowering the total cost of ownership.
Reduced CO2
The substantially increased wear life of this chain means that it does not need to be replaced as frequently as equivalent chains from other manufacturers. Less replacement chain therefore needs to be produced and disposed of, improving sustainability and helping to secure a better future for the world.
Ring coin connecting link
Allowing the chain to reach its full kW rating, ring coin connecting links provide exceptional strength and precision, which are unrivalled by competitors. This delivers increased transmission capacity, thanks to Tsubaki's pioneering design.
Excellent availability
When you need a replacement chain, you don't want to wait weeks for it to be manufactured and shipping; you need it quickly. At ACORN®, we have an impressive stockholding of Tsubaki GT4 Winner chain, available same day. We also have immediate access to Tsubaki's £1 million stockholding in Nottingham, to ensure that you are never left waiting.
For advice on how best to change your application over to Tsubaki's GT4 Winner chain, contact your local sales team today.