Five steps to implementing a successful preventative maintenance program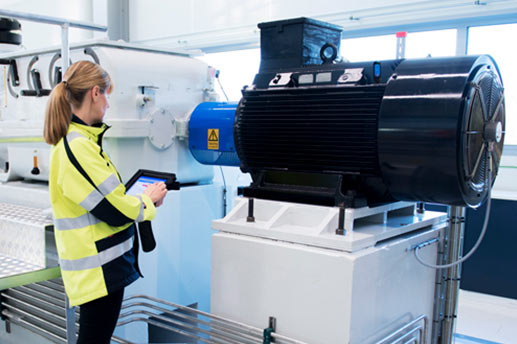 Preventative maintenance aims to identify faults before occurrence, meaning that repairs can be scheduled to take place during planned maintenance windows. This helps to limit downtime, as well as keeping costs to a minimum. With recent statistics showing that workers are 28% more likely to have an accident when performing reactive maintenance compared with proactive maintenance, the impact on worker safety is clear.
It can be difficult to know where to start with creating and implementing a successful preventative maintenance program, so we asked our Bearings and Maintenance Product Manager, Clive Simkins, to share his five-stage approach.
1. Assess the current situation
The first stage of the process is to comprehensively assess the current situation. Improvements cannot be made without fully understanding the starting point, and this becomes the baseline from which improvement is measured.
It's also critical that you truly understand the problem that you're trying to fix. Are you trying to improve the reliability of specific machines, or are you trying to reduce the amount of unplanned downtime within the plant?
A full survey of the business, including processes, equipment and knowledge is also required. Identify any gaps in these places, as these are the areas in which improvements can be made.
2. Set achievable goals
After you have assessed the current situation, the next step is to look at where you want to be. Then, you can begin to create goals which will help you to attain this. Make sure that the goals you set are both realistic and achievable, as well as considering both short and long term aspirations.
It's can also be valuable to review best practice to ensure that your goals align with optimum maintenance practices and will not cause you more problems in the future.
3. Identify resources required
Once realistic and achievable goals have been set, you can begin to identify the resources that will be required to fulfil these goals. This may include equipment, staff training, or increases to the workforce.
At this stage, it is particularly important to prioritise resource depending on your budget. Trying to do everything at once may deplete your budget and affect your ability to achieve your goals. Most businesses choose to focus on their most valuable assets first, as this is often where downtime is the costliest. Direct your tasks towards how the machinery might fail, and aim to prevent as many of these failures as possible.
Once the required resources have been identified, you can begin to create an implementation schedule. Break this down into daily, weekly, monthly, quarterly, bi-annual and annual tasks for each piece of machinery. Ensure that you are realistic about timescales and allow space for the possibility of emergency maintenance whilst the preventative maintenance schedule is still in the early stages.
4. Implementation
After the maintenance schedule has been created, it's time to implement it. Ensure that implementation is timely, without rushing but also without losing momentum.
Once you begin to implement your maintenance program, you should start to see an increased lifespan for your equipment, lower maintenance costs and reduced unplanned downtime, all of which will gradually improve as your maintenance program becomes more established.
However, when machinery does fail, ensure that root cause analysis (RCA) is performed. This can then be fed back into the implementation schedule to ensure that nothing is missed.
5. Evaluation
The process doesn't stop after implementation. A successful preventative maintenance program operates as a continuous cycle, rather than a linear process. This means that progress should be continually evaluated against the initial goals, with adjustments made to the maintenance program where required to continuously improve the reliability and efficiency of the business.
It's important to continue analysis of performance, and continually refine the maintenance schedule. It's also critical to be open to new technologies that may come about which may help you to enhance your productivity and your maintenance activities.
For assistance in implementing a successful preventative maintenance program, our Bearings and Maintenance Product Manager, Clive Simkins, is on hand to help. Contact us today for expert advice tailored to your business.