High performance seal option available on an extended range of SKF's Explorer deep groove ball bearings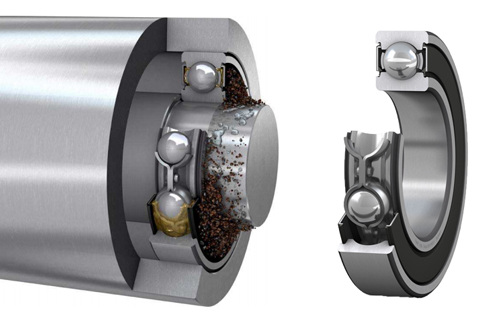 Bearing failures on critical machinery can cause dire machine failure and hours of expensive downtime. However, having your bearings unexpectedly and prematurely come to the end of their service life doesn't have to be the norm. Using a more resilient bearing can improve the service life of your machinery.
For many machinery manufacturers, deep groove ball bearings are the chosen bearing for their products as they are well known for their versatility, low friction and ability to withstand radial and axial loads, making them one of the most widely used bearings.
Using 100 years of experience in the design and manufacture of bearings, SKF have developed a superior solution that goes beyond the humble deep groove ball bearing in the form of their Explorer Deep Groove Ball Bearing range. The range can be optimised for applications with specific performance needs, particularly when running in challenging environments, maximising reliability and efficiency.
By using precision manufacturing, these bearings can run with considerably less vibration, noise and heat, all helping to extend the life of the Explorer DGBB. With this in mind, when these superior bearings are teamed with the high performance RSH seal the potential savings are astounding.
Previously, SKF only offered the RSH seal on bearings with a diameter of up to 25mm, this has now been extended to all bearings with a diameter of up to 60mm so bigger applications that struggle with contamination can benefit from the explorer range.
The RSH seal offers a dual lip configuration for extra protection from contaminants whilst increasing grease retention. Bearings with these seals will last longer and perform better in wet, dusty or contaminated environments. This causes a reduction in maintenance costs, downtime and premature bearing failure in environments where all three are difficult to avoid.
For more information on the SKF explorer range or for help choosing the right baring for your application, contact your local sales team today.