How to lubricate inaccessible chain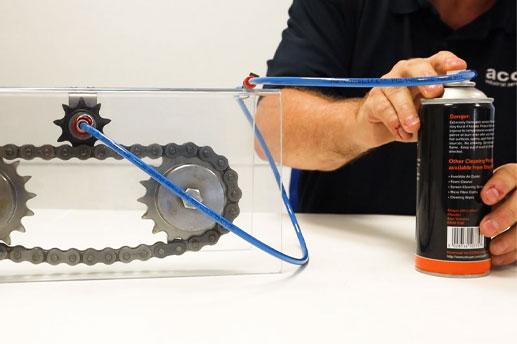 In chain driven applications, it can be difficult and dangerous trying to ensure that the chain stays lubricated and continues running smoothly, especially while machinery is operating behind chain guards.
Here, Power Transmission Product Manager, Paul Speight demonstrates how to use the RotaLube inaccessible chain lubrication kit, while explaining some of the features and benefits of the kit for users.
VIDEO TRANSCRIPT
Paul Speight:
Hi, I'm Paul Speight, PT Product Manager at Acorn Industrial Services. Maintenance is quite a big thing, so when you have to stop the machine to relubricate your chain, we might have a solution.
We offer from stock, a RotaLube® Inaccessible Lubrication Kit - it's quite simple to use, after the inital set-up with the bracket, applying the lubrication is as simple as this.
[Paul attatches the aerosol to the connection outside of the chain guard and presses the aerosol lubrication]
So, the benefits of this RotaLube system are: no downtime, worker safety, no contamination and increased production. If you need anymore information, please get in touch with us and we can discuss what RotaLube can do for you.