How to use the SKF QuickCollect sensor & app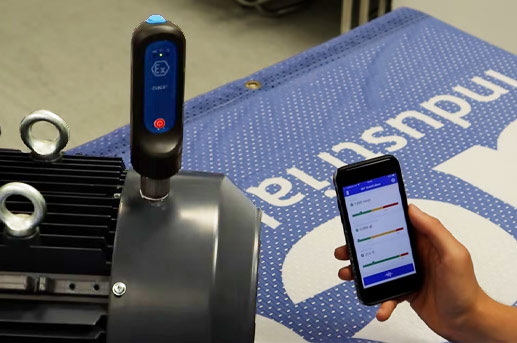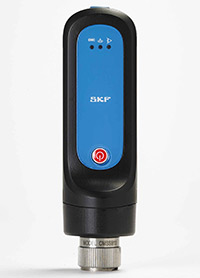 Predictive maintenance can often be seen as expensive and complicated, especially when your machinery is suffering from regular component failure. SKF is breaking the barriers of condition monitoring by offering an easy solution to monitoring your machines health.
Follow Bearing Product Manager, Andy Fletcher as he explains how to use the SKF QuickCollect sensor & app to monitor the health of your machine.
VIDEO TRANSCRIPT
Hello, today I'm going to talk to you about the SKF QuickCollect system, so this is the sensor, it connects to your mobile device tablet or phone, and is operated through an app. It has a strong magnetic location, so if you have an aluminium housing like this one, it won't connect. So, what we suggest is to mount some metallic washers on there, which magnetically connect.
So, this is the sensor, it is very easy to use, it has one on/off button, which I will just press now - you can then control it through the app. The phone app then asks you to connect to the sensor, so press that. It then automatically locates the device, select it, the device is then automatically recording live, this is the point at which you name your machine ID.
You can select your velocity rating, so if you have got a large machine, or a medium sized machine; if you're not sure which one you have, you can just select the 'I', it will give you a detailed explanation of which application you need to select. Rigid or flexible, and you also have the ISO standard velocity threshold set, depending on which of the two options above that you picked. If you want something non-ISO standard you cans elect them and type in what you want. Do the same for enveloped acceleration, select bearing bore size, type in the RPM speed rating, by changing those, the ISO standards are automatically updated as you can. You can also type in the bearing designation, that designation is also included in the reports generated, and the same with temperature, you can set that to whatever it is that you wish.
You can create a QR code of those settings that will be associated to whatever that machine ID is. So, by creating that QR code, you can print this out and scan, meaning that each time you come back to that machine you can scan the QR code, meaning you don't have to type all that information in again. It's as easy as that.
The QuickCollect device is available to hire from ACORN, if you want to know more, feel free to contact your local ACORN branch.