Lining up for success with SKF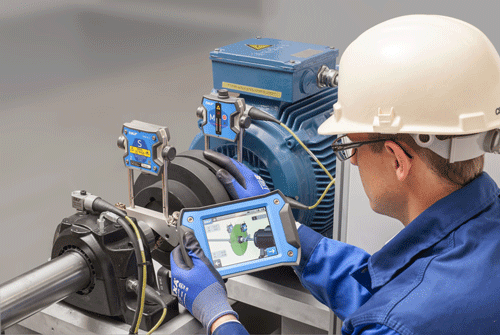 Reducing downtime and optimising productivity are priorities in every industry. A properly aligned shaft can improve machinery uptime and reliability, along with reducing maintenance costs to the business.
The risks of a misaligned shaft are high, often causing excess vibration, elevated operating temperatures and undue strain on machine components. This considerably shortens the lifespan of components, leading to premature failure and unnecessary downtime.
SKF's TKSA range of shaft alignment tools help to ensure the correct alignment of shafts in every application. Developed for rotating machinery in industrial applications, the TKSA range helps to identify and correct shaft misalignment, whilst remaining easy to use and intuitive, even for less experienced operators.
SKF TKSA shaft alignment tools comprise of two measuring units which deliver precise measurements, even in challenging conditions. TKSA 31 and 41 are supplied with a display unit, whilst TKSA 11, 51 and 71 can be used with any Android or iOS smartphone or tablet.
The range is capable of aligning shafts of up to 10 metres in length in both horizontal and vertical shaft applications. It is also capable of identifying a soft foot – when a machine is not standing evenly on all feet. The automatic measurement capability detects when the measuring heads are in the correct position, leaving both hands free to rotate and hold the shafts in place.
After each alignment, the TKSA range automatically generates a customised report with notes about the application. Reports can be exported as a PDF and images can be saved to alignment reports. The built-in machine library helps to organise alignment reports and provides an overview of all machines.
For more information on shaft alignment, or to discover the perfect SKF TKSA shaft alignment tool for your application, contact your local knowledgeable sales team today.