Top 5 Maintenance Products to save time & money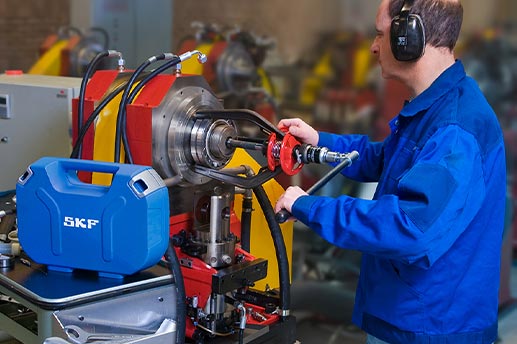 We understand that keeping up with proper maintenance practices can sometimes seem like a difficult and time-consuming task, particularly when you're in the midst of a machine breakdown where costs are mounting by the minute. However, when we take into consideration that over 50% of all premature bearing failures are attributed to poor maintenance (opens new window), it's easy to see how essential proper maintenance practices are. Keeping up with regular maintenance is the best way to keep your machinery running at its optimum level for the longest time possible.
Here is a list of the top 5 maintenance products from SKF that help to increase machine uptime, maintenance efficiency and worker safety:
1. SKF System 24 Automatic Lubricator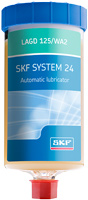 Keeping up with lubrication schedules can be difficult, especially if the component you're greasing is in an inaccessible or difficult to reach area. The LAGD gas driven single point automatic lubricators are out-of-the-box and ready to use and pre-loaded with high-performance grease, reducing maintenance time significantly by lubricating components without needing intervention. Automatic lubricators are particularly helpful when it comes to maintenance in hard-to-reach areas as the units don't require any tools for set-up and can be flexible to your components lubrication needs, with a dispense rate between 1 to 12 months. There are a wide range of greases available for the LAGD unit, including LGWA 2 wide temperature range, extreme pressure bearing lubricant and LHMT 68 chain oil.
2. SKF TWIM 15 Portable Bearing Heater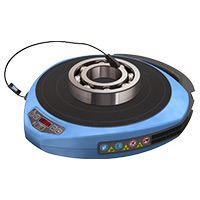 When it comes to mounting bearings, it is essential to consider both efficiency and safety while carrying out the task. Although there are many different ways to fit a bearing, the easiest and safest heating method by far is to use a bearing heater such as the TWIM 15 heater from SKF.
The TWIM 15 is a versatile heater capable of heating bearings, couplings, gears and other workpieces, weighing up to 20kg without the induction plate getting hot. Not only this, but the TWIM 15 uses medium-frequency technology to heat components which means it does not create noise – instead an LED indicates when it is heating. Finally, weighing in at a mere 6.6kg, the TWIM 15 is easily portable and can be taken to where maintenance is required, while its compact design allows for easy storage.
3. SKF TKSA 41 & 51 Shaft Alignment Tools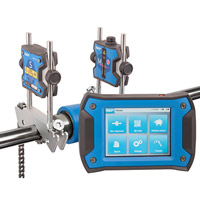 Good alignment is essential to ensure longer service life. When a shaft is misaligned, it runs the risk of causing unnecessary stress to machine components due to excess vibration or increased operating temperatures.
SKF's TKSA 41 & 51 shaft alignment tools identify and correct shaft misalignment without the need for special training, as its easy to use features are ideal for operators of any experience level. The TKSA 41 is supplied with a display unit as part of the kit, whereas the TKSA 51 connects with Android or iOS smartphones and tablets. Both units can align horizontal and vertical shafts of up to 10 metres in length. In addition, the automatic measurement feature of the TKSA series allows hands-free measurement allowing users to adjust the device freely.
4. SKF TMFT 36 Bearing Fitting Tool Kit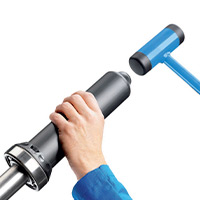 Have you noticed that your bearings don't run efficiently and keep failing prematurely? It could be due to poor fitting. Ensuring your bearings are correctly fitted is paramount not only to bearing longevity but machine and worker safety.
The TMFT 36 bearing fitting tool from SKF facilitates the mounting of bearings with bore diameters from 10-55mm; by enabling the correct combination of impact ring and sleeve to be used, minimising the risk of damage to the bearing's raceways and rolling elements. The TMFT 36 can also be used to mount other components such as seals, pulleys, and bushings. The kit includes 36 impact rings, 3 impact sleeves and a dead-blow hammer.
5. SKF TMHC 110E SKF Hydraulic Puller Set
It can be easy to think, what does it matter when dismounting a bearing? It may have already failed, so what does damage matter? Using the proper kit can make dismounting quicker, more efficient, and most importantly, much safer for workers. Not only this, but it also protects the shaft from any damage that could cause trouble later down the line.
The TMHC 110E Hydraulic Puller Set from SKF combines both a jaw puller and strong back puller to facilitate quick, easy and safe dismounting. This kit is a flexible option for the varying space and demands of different applications as it can be assembled as a two or three arm puller, with extension rods supplied to increase pulling lengths of up to 245mm.
Get in touch with our knowledgeable sales team today to discuss maintenance solutions.