ACORN Appoints new Bearing & Maintenance product manager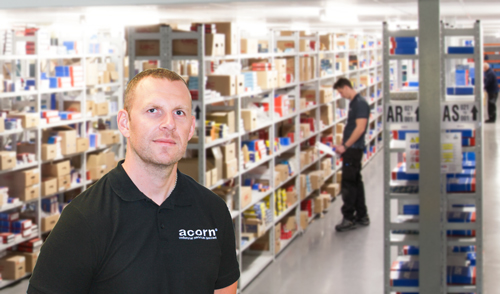 Acorn Industrial Services Ltd is delighted to announce the appointment of its new Bearing and Maintenance Product Manager, Andy Fletcher. Andy brings with him 16 years of experience which he will put to use in assisting ACORN's customers with all of their bearing and maintenance requirements.
On his appointment, Andy said: "I am delighted to be joining ACORN as Bearing and Maintenance Product Manager. The levels of support that ACORN offer, along with the wide range of products available presents a huge advantage. I'm looking forward to assisting our branches and their customers across the UK whilst further developing ACORN's bearing and maintenance product range."
Andy's previous experience includes nine years in NSK-RHP's Research and Design facility where he was responsible for application and engineering support for the European field-based team. In this role, he developed a deep technical understanding of the products and their design qualities.
From here, Andy gained a further seven years of experience in NSK-RHP's UK Field-Based Application Engineering team. He benefitted from first-hand industry experience, seeing the bearings he'd previously designed being used in various applications. This knowledge and experience will enable Andy to assist customers with their application requirements, along with helping them to improve on the lifespan of their bearings and other components.
ACORN's Sales Director, Gavin Stacey, commented: "It is a privilege to welcome Andy Fletcher to ACORN. He brings with him a wealth of industry and product experience, making him ideally placed to assist our customers with their application requirements. I know I speak for everyone at ACORN in wishing Andy a warm welcome to the team and I look forward to working closely with him over the coming months and years."