ACORN® Invest in New Specialist Linear Cutting Equipment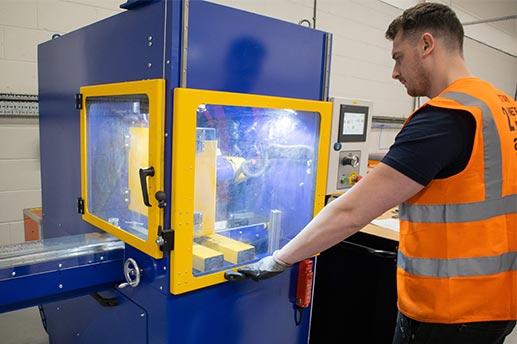 Acorn's dedicated Linear Division has grown significantly since its inception in 2007 to now being the leading UK stocking Distributor of linear products. A key part of this growth has been the ability to cut rails to customers' requirements promptly and accurately. When required, matching carriages can be expertly mounted to produce linear rail guide assemblies available for dispatch within 24 hours of order.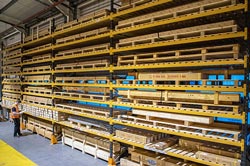 To do this, Acorn has had a specialist cutting machine since 2007 as linear rail guides and shafts are manufactured from hardened steel and thus require specialist, dedicated rail-cutting equipment. However, the vast increase in demand for cut rails and shafts, together with Acorn's commitment to continually improve their customer offer, has provided the background to a very significant capital investment in a new cutting machine, which will be cited in a revised and revamped dedicated area at their National Distribution Centre in Rotherham.
This new machine is capable of a much quicker cut, thus ensuring that Acorn can continue to offer rapid delivery. The machine uses a dry cut rather than the wet cut of the original machine, resulting in a reduced environmental impact as no fluid requires disposal. The cut is also much quicker, meaning that far less energy is used in the cutting of rails and shafts. This specialist machine also uses a closed cutting area that exhausts to a special air filter, thus protecting the operator, other warehouse personnel and the environment from potentially harmful pollutants.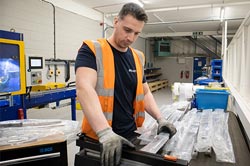 A further important new feature is the ability to carry out end-face grinding. When linear rails are to be used 'joined' together, it is vital that the end faces to be joined are of very high quality in terms of surface finish and perpendicularity of the cut. With this new ability, Acorn can now offer 'butt jointed' rails, which means that customers can have long rail assemblies available from stock rather than wait the typical many weeks or months to have these manufactured to order.
Great care in the design of this bespoke machine also means that length accuracy and repeatability are even further improved, along with ensuring the consistency and quality of the cut itself. The entire cutting process is now much more automated, resulting in consistent, high-quality rail and shaft production.
Additionally, the new machine is in a dedicated area that is physically separated from the rest of the warehouse. This means that these precision rail products are assembled in as clean an environment as possible, with all the necessary tools to hand.
This new area, in conjunction with the investment in new machinery, is just part of Acorn's commitment to ever-improving their customer offer and maintaining their position as the leading UK distributor of linear, rotary and power transmission products.
Acorn Industrial Services Ltd is part of Axel Johnson International, a global industrial group of more than 150 companies in 30 countries. Axel Johnson International drives business development and growth through a long-term approach to ownership in strategically selected niche markets, primarily technical components and solutions for industrial processes. Axel Johnson International is organised into six business groups: Fluid Handling Solutions, Industrial Solutions, Lifting Solutions, Power Transmission Solutions, Transport Solutions and Driveline Solutions. Axel Johnson International is part of the Swedish family-owned corporate group Axel Johnson.
www.acorn-ind.co.uk | www.axinter.com