When a quick fix really is enough: Straight to shaft solutions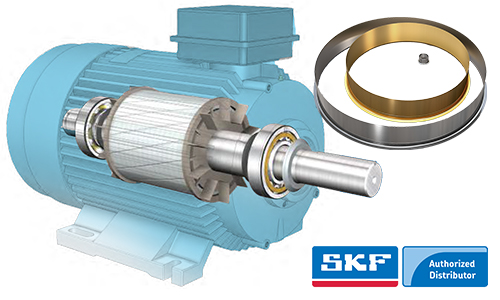 Picture the scene: your most critical piece of machinery is operating at full capacity. You don't have time for downtime right now, but you notice oil on the floor. One of your shafts has been damaged by an abrasive contaminant, meaning that one of your bearing seals isn't able to make full contact with the shaft.
You can't afford for the bearing to fail before your scheduled maintenance window, but you also know that your bearing's chances of survival are low, given the highly contaminated operating environment. If only there were a solution to protect the bearing which would avoid the hours of downtime required to change the shaft.
Introducing the SKF SPEEDI-SLEEVE
Renowned across the globe for manufacturing innovative solutions to industry challenges, SKF has stepped forward with the perfect fix.
The SKF SPEEDI-SLEEVE is a pioneering shaft repair kit which can be simply pushed into position over the worn area of shaft, restoring the shaft quickly, easily and economically. In fact, the SKF SPEEDI-SLEEVE can be fitted in a matter of minutes! No shaft disassembly or machining is required, helping to keep the costly downtime to a minimum.
The thin walls of this sleeve mean that seal dimensions don't need to be revised, yet an excellent sealing capability is maintained. The optimised surface of the SKF SPEEDI-SLEEVE helps to keep wear to a minimum on both the sleeve and the sealing lip, further promoting your uptime.
The SKF SPEEDI-SLEEVE also features invisible lubricant pockets which help to retain lubrication on the sleeve. This helps to prevent the sealing lip from running dry, further minimising wear to both the shaft and the seal.
No specialist equipment is required to fit an SKF SPEEDI-SLEEVE – a mallet and some pliers are all you need. There is a removable flange to simplify installation which can generally be left intact unless it is likely to interfere with other machine components.
SKF SPEEDI-SLEEVES are available to fit shafts ranging from 11.99mm up to 203.33mm in diameter, making this product suitable for use in a broad range of applications.
For applications which are operating in the harshest of environments with high levels of abrasion, the Gold variety is available. SKF SPEEDI-SLEEVE Gold has been innovatively designed to stand up to abrasion thanks to a thin metallic coating which is applied to the base stainless steel to provide increased durability.