How does the SKF Advanced Thermal Imager TMTI 2DTS work?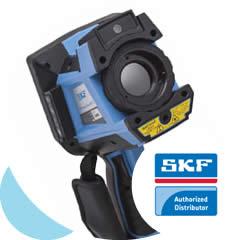 The SKF Advanced Thermal Imager TMTI 2DTS is a user-friendly thermal imager, producing high quality images from invisible infrared radiation. The high resolution (160x120 /19 200 pixels) images are displayed on a large backlit 3½" screen, for ease of viewing. Powerful PC and report-writing software is supplied as standard (MS Windows 2000, XP, Vista or later version required), which help enable the user to perform comprehensive data analysis and enhancement of the images.
Advanced temperature measurement features are built-in to the TMTI 2DTS such as, automatic hot spot and cold spot finder, Maximum/Minimum temperature view of an area and temperature difference display of two user defined spots. Suitable for industrial environments, the TMTI 2DTS is supplied in a heavy duty case with software, rechargeable battery, battery charger, rubber protection sleeve, high temperature range filter and a SD memory card for image storage.
Compact ergonomic design and light weight helps make the TMTI 2DTS suitable for use in most industrial applications
Easy to navigate menu makes the TMTI 2DTS a user-friendly instrument and helps facilitate ease of use
Non-contact measurement technique enabling measurements to be made safely on running equipment
Wide temperature measurement range from –10°C to 500°C is ideal for Predicative Maintenance applications
User selectable emissivity correction from 0,2 to 1,0 with reflective ambient temperature correction, helps ensure that the TMTI 2DTS is suitable for almost any application
Convenient temperature measurement in K, °C and °F eliminates the necessity to convert temperature reading
Laser pointer pinpoints the area of interest. Easy to associate the hot spot on the screen with the target in the field
4 different selectable colour pallets (ironbow, rainbow, high contrast rainbow and greyscale) for ease of viewing
20° x 15° field of view easily enables the application to be seen
Large thermal image storage capacity, up to 1 000 images (in radiometric format) can be stored on the SD card provided. Easy for data collection and subsequent reporting
Up to 10 live images per minute can be displayed on a PC
Rubber protection sleeve helps protect the imager from damage
Related articles