1-20 of 21 products
What is the SKF range of thermometers?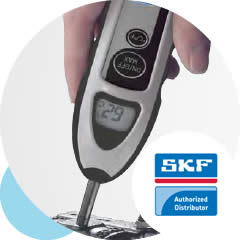 SKF Thermometers are suitable for a wide range of applications.
The pocket sized General Purpose Thermometer pen SKF TMTP 200 is a user friendly instrument with a sturdy flexible probe tip enabling many surface temperatures to be measured.
The SKF TKDT 10 has a wide temperature measurement range and has the option to accommodate up to two SKF temperature probes.
SKF Infrared thermometers are portable, lightweight instruments for safely measuring temperature at a distance.
They are extremely user-friendly; simply aim and pull the trigger and the temperature is shown on the display.
These robust instruments are equipped with a back-lit display and laser sighting. They are fitted with a bright LED illuminator to allow the application object to be seen even in poorly lit environments.