ACORN Split Downtime In Half With SKF Cooper's Split-To-The-Shaft Bearings

Acorn Industrial Services Ltd are proud to have been awarded Authorised Distributor status for SKF Cooper bearings, completing the full range of SKF products available to customers.
SKF Cooper bearings use their pioneering technology in collaboration with the very latest manufacturing techniques to engineer their innovative split to the shaft bearings. Being the inventor of the original split roller bearing gives Cooper unrivalled expertise in the precision manufacture of their superior quality components.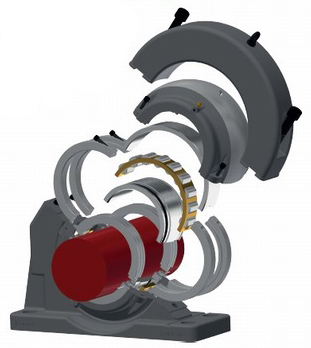 Clive Simkins, Bearing and Maintenance Product Manager, commented: "Cooper split bearings are renowned across the globe for their innovation and reliability. We have invested in large stocks of Cooper split bearings to ensure that short lead times can be met, in order to protect customer productivity. We're particularly excited about the bespoke split bearing solutions that can be offered, thanks to Cooper's on-site foundry at their UK-based manufacturing site."
Owing to their split construction, Cooper split roller bearings can be easily inspected, maintained and refitted at the shaft, without the need to dismantle surrounding equipment. This enables businesses to save on both costs and downtime.
Mr Ian Bloxham, General Manager for SKF Cooper bearings, commented: "ACORN's world class technical expertise and extensive stock availability, together with Cooper's innovative product design and industry insight, will present customers with the ultimate combination of knowledge and dependability."
Acorn Industrial Services Ltd provides full service supply solutions on engineering components to an international customer base. Their impressive stockholding of over six million items is available from regional distribution centres throughout the UK.
Acorn Industrial Services Ltd is part of Axel Johnson International, a privately owned Swedish industrial group of more than 90 companies in 25 countries, with combined annual sales of €750 million. Axel Johnson International drives business development and growth through a long-term approach to ownership in strategic niche markets, primarily technical components and solutions for industrial processes. Axel Johnson International is organised in four business groups: Fluid Handling Solutions, Industrial Solutions, Lifting Solutions and Transport Solutions.