Acorn exhibits Nadella's new C-Line Linear system at Southern Manufacturing
Acorn exhibits Nadella's new C-Line Linear system at Southern Manufacturing - February 12th and 13th, FIVE, Farnbrough Hall: 2 - Stand: S46
Leading bearings, linear systems and power transmission distributor Acorn Industrial Services will be exhibiting a wide range of linear motion products from world class manufacturers Nadella, THK and SKF at the Southern Manufacturing show at Five, Farnbrough - the UK's largest regional manufacturing technology show.
Nadella's new C-Line guide rail will be on show. The new C-Line LS series is a complete guide system consisting of a guide rail, guide rollers and carriage. The system boasts a rail manufactured from drawn steel, induction hardened and zinc plated for long term reliable use. The design of the system allows for parallelism and mounting surface errors, leading to simpler and less costly installation. The C-Line rollers are lubricated for life and feature an integrated lubricating system. The carriages have concentric and eccentric rollers allowing the running characteristics to be adjusted to suit the application. This easy, smooth running system is able to achieve speeds up to 8m/s and acceleration up to 50m/s2.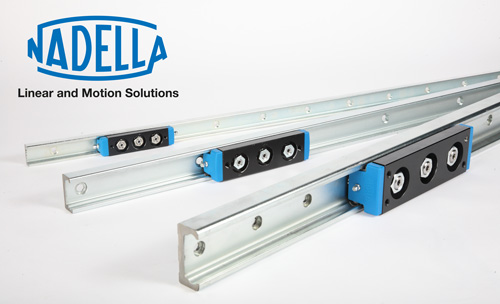 Nadella C-line linear guide system can be used in a wide range of applications in both general and automated machinery. They are particularly well suited where the installation dictates a higher tolerance to rail misalignment and surface mounting errors than the use of profile rail guides would dictate, for example. Furthermore these guides can be used in contaminated environments where profile rail guides would not be suitable.
In addition to the new C-Line guide rail, Nadella's FSRO Oval circuit, belt drive actuator, their Heavy Line, V-Line, U-Line and Base Line guide rails will also be on display, alongside products from THK and SKF.
In addition to seeing and handling products, Acorn's Product Manager - Simon Gillingham together with technical experts from these industry leading manufacturers will be on hand to answer any queries or provide detailed application advice.
Acorn holds an extensive stockholding of bearings, linear systems and power transmission products, with over one million items in stock. The company has recently invested in purpose built 40,000 sq. ft. premises in South Yorkshire that are twice the size of its previous site and house its £4m worth of stock, plus its head office functions.
The company has 30 years' experience in the supply of bearings, linear systems and power transmission products, delivering a fast response for local, national and international customers.
For more information, visit the website at: www.acorn-ind.co.uk/linear or call 01709 789 949
Press enquiries: Richard Hewitt, Acorn Industrial Services Ltd., Tel: 01709 789 909 or email: rhewitt@acorn-ind.co.uk