Clive Recommends his Favourite Maintenance Product for the Rewinder Industry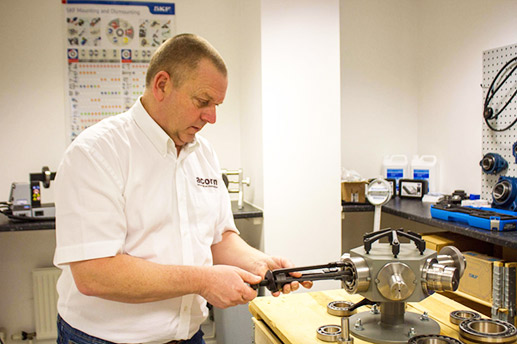 If you've ever talked to Clive Simkins, our Bearings & Maintenance Product Manager, it wouldn't take you long to realise just how passionate he is about maintenance products (or MaPro to use the abbreviated term.) So, we asked him to select one maintenance product for the Rewinder industry that he really loved and why.
Let's say you have a motor needing refurbishment, in order to do this, everything inside will need to be removed from the motor ready for rewinding. Before thinking of cost or time, you want to think about the safe removal of bearings encased within housing, safety that applies to both yourself and the motor on the table. The SKF TMMD 100 Deep Groove Ball Bearing Puller ensures the safe, easy and cost-effective dismounting of blind housed bearings. Using a puller means the likelihood of damaging the shaft or bearing housing is decreased massively, reducing costs of and prevents the risk of unhappy customers as damaged shafts & housings renders motors beyond repair.
All in all, the place of Maintenance Products in industry has been created to make maintenance jobs less awkward, quicker and safer. Often, people see these instruments as treats, opting to use cheaper and more dangerous methods of mounting and dismounting bearings. This is in fact detrimental to bearings and not to mention the risks posed to your health.
Apart from safety, other reasons for using correct mounting and dismounting tools include: saving time, taking pressures off not only workers - by getting their focus away from machines – but also keeping each part of the production happy. Running costs can also be lowered, as there is less machine damage, which in turn means less stress for engineers fixing the machines often under time and cost pressures.