How do you tell if you've got a top quality Freudenberg radial shaft seal?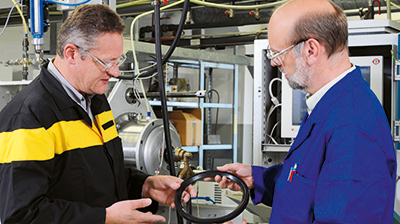 Picture this: you walk into your metal rolling mill and see your largest electric motor, sitting there in a puddle of oil. On closer inspection, it's obvious to you that a replacement rotary shaft seal is what's required, but where do you start?
The longer it takes you to identify, source and fit the replacement seal, the more downtime stacks up, and the more it costs your business. You need to find out what you need, order the replacement, and install it as soon as possible.
But how do you know whether you've got a high quality Freudenberg Sealing Technologies Simrit oil seal? And what difference does it make, anyway? A seal is a seal, right? Wrong!
The seal in your hand is as important as the components you fit. The rubber compounds that make up your seal play an important part in its service life, which is why it's important to ensure that these are of a high quality. A low quality oil seal is likely to fail quickly, costing you money in replacement components and damage caused by the failure, not to mention the additional maintenance.
Identifying a Freudenberg oil seal
It isn't always easy to identify a Freudenberg rotary shaft seal. Rather than explicitly saying 'Freudenberg' on the seal, Freudenberg oil seals instead have the acronym 'CFW' printed onto them. CFW stands for Carl Freudenberg Weinheim: in tribute to the man who founded the company, Carl Freudenberg, and the place that the company was founded, Weinheim in Germany.
To be sure that your seal is a high quality Freudenberg seal, look out for the CFW mark, and always purchase from a Freudenberg Authorised distributor to avoid counterfeits.
What types of Freudenberg oil seals exist and how can I identify them?
To be able to source a replacement seal, you first need to identify what type of rotary shaft seal you have.
First of all, identify what material the seal is made from. Freudenberg give us a clue to this in the colour of the seal. For example, Fluoroprene® seals which are commonly found in the food & beverage and pharmaceuticals industries are always blue.
It is also important to note the lip profile of the seal: is there a single lip, a double lip, and / or an auxiliary dust lip?
Another important feature to note is whether the seal has a metal outer sleeve, and whether it has a retained spring.
All of these features need to be put together to correctly identify the seal, and to help with reordering. If you are unsure, contact our knowledgeable sales team who can help you with identification.

My current seal is not Freudenberg. Why should I choose Freudenberg?
You can pay for the highest quality components, but if you don't invest in adequate protection for them, you could have wasted your money. Your premium electric motor could be ruined by a sub-standard seal, costing your business thousands. By simply investing in a quality sealing solution, you could extend the service life of your components by several years, saving your business
With over 150 years of expertise in sealing technologies, Freudenberg is perfectly positioned to provide the best possible protection for your valued machinery.
Freudenberg Simrit oil seals have been continually developed to further improve upon performance and reliability over time. They have been proved to generate considerably less heat and friction than their competitors, which leads to a reduction in power loss. This means in turn a lower running cost and a reduction in CO2 emissions.
Where can I buy Freudenberg seals?
ACORN stock a wide range of Freudenberg seals, which are available for same day despatch.
It is simple to upgrade your applications to Freudenberg seals. Our knowledgeable sales team can cross-reference equivalent seals to ensure that the changeover to Freudenberg is smooth and easy for your business.
Contact us today to discover how you could increase your reliability and reduce your downtime.