SKF Bearing Review: Spherical Roller Bearing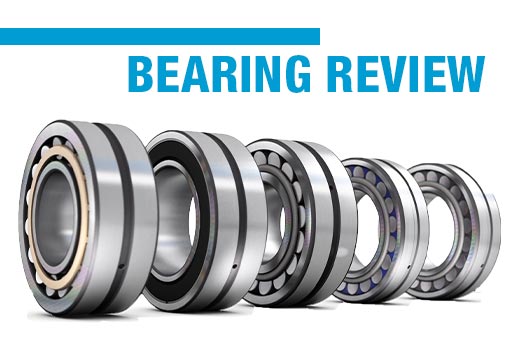 SKF Explorer Spherical Roller Bearings are renowned across the globe for their running characteristics and performance, but how do you know whether what you've heard is really true? What you need is an SKF bearing review of the spherical roller bearing to give you the facts on this bearing.
In this article, we're going to review the SKF Explorer spherical roller bearing, giving you our honest opinion of its features and real-world performance.
Highlights
Let's start with the highlights of the SKF Explorer spherical roller bearing – what do we think makes this bearing special?
Here are our five favourite things about the SKF Explorer spherical roller bearing:
Impressive service life
Tolerant of both heavy loads and misalignment
Reduced operating temperatures
Self-guiding rollers keep friction to a minimum
Reduced noise and vibration levels
As you can see, the SKF Explorer spherical roller bearing has some impressive features which offer real benefits to a vast range of applications. So, let's take a closer look at SKF spherical roller bearings, to find out what this bearing can offer to businesses.
Design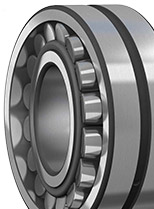 The design of the SKF Explorer spherical roller bearing is well thought-out and demonstrative of the innovative capabilities of SKF.
The bearing is manufactured from high-quality, super-clean and tough steel which is heat treated to ensure maximum strength and durability. This strength is reflected in the bearing's impressive service life – but more on that later.
Self-guiding rollers are a key design feature of the SKF Explorer spherical roller bearing. Not only do these barrel shaped spherical rollers reduce friction within the bearing, but they also allow the bearing to accommodate angular misalignment. This helps to reduce the likelihood of bearing failure in applications prone to misalignment, extending maintenance intervals and enhancing productivity.
And the innovative design features of SKF Explorer spherical roller bearings don't end there, either. This bearing also features floating guide rings which carefully guide the unloaded rollers, ensuring that they enter the loaded zone in the optimal position. This helps to maintain maximum performance, keeping both friction and frictional heat at low levels.
Load
SKF Explorer spherical roller bearings have an impressive load carrying capacity. This enables these bearings to accommodate heavy radial loads, along with high axial loads in both directions, making them ideal for even heavy duty applications such as wind turbines and mining equipment.
For applications with increased load requirements, customised bearings are available to meet the requirements of the operating conditions. For example, the BC suffix indicates that a bearing has been designed for use in wind turbines, with an increased axial load carrying capacity thanks to its increased contact angle.
Speed
SKF Explorer spherical roller bearings are typically found in applications which operate at low to moderate speeds. However, if you've got an application which demands higher speeds, SKF offers an innovative solution to meet the unique demands of your business.
Bearings which are marked with the VA991 designation suffix have been specifically designed for use in high speed applications, delivering up to 50% higher limiting speeds than standard SKF spherical roller bearings. This high speed option is available in the 223, 232, 240 and 241 series, helping to meet the needs of every business. These bearings are especially useful in multi-megawatt industrial gearboxes.
Sealing options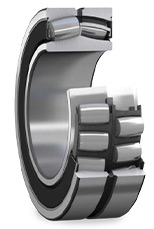 There's no point investing in the best possible bearing for your application if you don't protect it adequately from dust, debris and contamination. Luckily, SKF offers the option to purchase its spherical roller bearings pre-fitted with a contact seal on either one or both sides. Sealing options include:
Sheet steel reinforced nitrile (NBR)
Sheet steel reinforced hydrogenated nitrile (HNBR)
Sheet steel reinforced fluorocarbon (FKM)
When you purchase a sealed spherical roller bearing from SKF, it will be supplied pre-lubricated with grease, meaning that it is ready to fit to your machinery straight away, with no cleaning required. SKF LGEP 2 (high load, extreme pressure) grease is used as standard, although LGHB 2 (high load, high temperature) or LGWM 2 (high load, wide temperature) greases are also available upon request.
An effectively sealed bearing will significantly reduce the need for maintenance, minimise grease consumption and reduce your environmental impact. Not only that, but you'll also benefit from a longer service life, with optimised uptime.
Service life
Speaking of service life, this is one of the things that stands out the most about the SKF spherical roller bearing. In fact, in tests conducted in the SKF research laboratories, SKF Explorer spherical roller bearings outlasted competitor bearings by up to double. This demonstrates the high levels of performance and reliability offered by SKF Explorer spherical roller bearings.
The reason for this impressive service life is the combination of the high-quality steel from which the bearing is manufactured, along with the improved heat treatment process that is undergone during the manufacturing process. Couple that with tight dimensional and geometrical tolerances, along with the self-adjusting capabilities of this bearing, and you'll begin to understand why SKF Explorer spherical roller bearings are so popular in every industry.
Applications
SKF Explorer spherical roller bearings can be found in a wide range of industries, extending the life of applications in millions of businesses across the globe.
Applications which benefit from SKF Explorer spherical roller bearings include:
Fans and blowers
Gearboxes
Marine equipment
Metal industry equipment
Mining and construction equipment
Pulp and paper processing equipment
Pumps
Pumps
Railway axle boxes
Wind turbines

The verdict
It's clear to see why so many businesses rely on SKF Explorer spherical roller bearings to keep their machinery moving. These premium quality bearings offer an outstanding service life combined with high levels of reliability. Not only that, but they prioritise performance, minimising friction and keeping noise and vibration to a minimum during operation.
SKF Explorer spherical roller bearings are also ideal for businesses looking to reduce their environmental impact, especially if you opt for the sealed option. This will help to keep your lubrication consumption to a minimum, whilst the energy savings you'll gain from using SKF Explorer spherical roller bearings will help your business to be as sustainable as possible.
If you're considering choosing SKF Explorer spherical roller bearings for your business, ACORN® is here to help. We can guide you through the process of choosing the right bearings for your business needs, whilst helping you to extend your maintenance intervals and reduce your downtime.
To find out more about SKF Explorer spherical roller bearings, contact your local ACORN branch today.