SKF heats things up with new range of TKTL infrared thermometers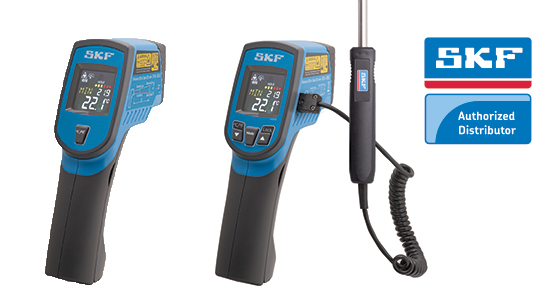 It is widely accepted that predictive maintenance reduces downtime and keeps costs to a minimum. However, many businesses don't realise that preventative maintenance also helps to reduce the likelihood of worker injury, as maintenance engineers are almost three times as likely to have an accident whilst performing reactive maintenance rather than proactive maintenance.
Actively monitoring the condition of machine components allows preventative maintenance actions to be scheduled, keeping machinery in the best possible condition to avoid machine breakdown and costly downtime.
When things start heating up in your machinery, it could be a sign that you've got a problem. An increase in operating temperature is often one of the first signs of bearing failure. Catch the problem quickly and you may have the chance to perform corrective maintenance to rectify the issue and prevent failure.
Following the global success of the TKTL 40 dual laser infrared and contact video thermometer, SKF has further increased its TKTL range of infrared thermometers to provide a broadened selection of options to suit every application and budget.
TKTL 11 – basic infrared thermometer
SKF's entry-level infrared thermometer is the TKTL 11. This thermometer is capable of providing high accuracy temperature readings with a fast response time, with 8 fitted lasers for accurate targeting. It has a fixed emissivity of 0.95, along with a DS ratio of 16:1.
TKTL 21 – advanced infrared thermometer
The TKTL 21 advanced infrared thermometer builds on the features of the TKTL 11 model, whilst also offering the option to measure temperatures with a type-K thermocouple probe. This model features the ability to adjust emissivity, along with a DS ratio of 30:1.
TKTL 31 – high performance infrared thermometer
SKF's high performance infrared thermometer is the TKTL 31. This model is further enhanced by dual laser targeting, for the most accurate temperature readings. It also features a backlit monochrome LCD display, making it suitable for use in poorly lit environments.
TKTL 40 – dual laser infrared and contact video thermometer
If you're looking for the ultimate infrared thermometer for your application, SKF's TKTL 40 dial laser infrared and contact video thermometer is the real contender. With a 2.2" TFT LCD display and a 640x480 pixel digital camera, this thermometer is capable of capturing high quality JPEG images and MP4 videos. Not only does this device measure temperature, but it can also be used to record humidity and air temperature, making it ideal for use in the HVAC and food and beverage industries.
Good predictive maintenance practices will help to reduce your machine downtime, increasing your productivity and in turn, your profits. SKF infrared thermometers offer the perfect solution for every application and budget, analysing critical environmental conditions to promote the health of your valuable machinery.
For more information on the expanded SKF range of infrared thermometers, or to discuss your maintenance requirements with the experts, contact your local knowledgeable sales team today.