The portable solution to bearing heating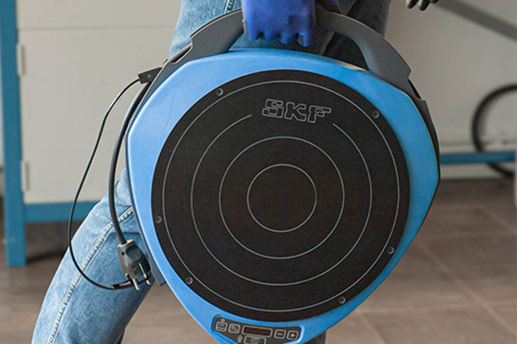 SKF has launched the new TWIM 15 portable induction heater, in replacement of the former TMBH 1 heater.
Heat is an effective and controlled method for mounting bearings and other machine components. The application of heat to the component causes it to expand, allowing it to slide easily onto the shaft, without the need for force. Generally, a temperature difference of 90 degrees celcius between the bearing and shaft is sufficient to facilitate mounting.
Suitable for heating bearings, couplings and gears up to 20kg in weight, the TWIM 15 induction heater is able to detect the component size to heat it appropriately. Simply position the component centrally on the marked heating rings, where it will be heated by the induction plate, which is able to conduct heat without getting hot.
With a sturdy carry handle for easy portability, TWIM 15 weighs only 6.6kg, making it a lightweight alternative to most other bearing heaters. The flat shape of the heater means that a support yoke is not required, widening the variety of components that can be heated and reducing the number of accessories needed.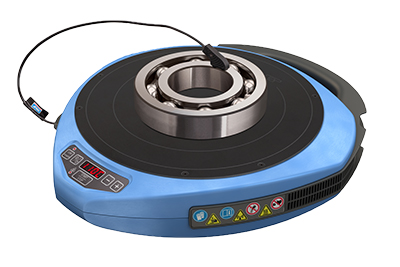 Available in both 110V and 230V options, TWIM 15 uses medium-frequency heating technology which is ultra-quiet. But don't worry – a handy LED indicates that heating is taking place. The heating process is fast too, with a 6320 bearing taking around five and a half minutes to heat up to an optimum temperature for mounting.
With two power settings available, TWIM 15 is also able to heat more sensitive components at a slower pace in order to avoid damage. The heater features over heating and over current protection, as well as offering detection capabilities for a faulty temperature probe.
TWIM 15 is in stock to buy now from ACORN, with same day availability. Alternatively, to see the benefits of this portable induction heater before you commit to buying, it can alsobe hired from ACORN.
Contact your local sales team today to find out if TWIM 15 is right for your application and to place your order.