Brands In The Spotlight: Hutchinson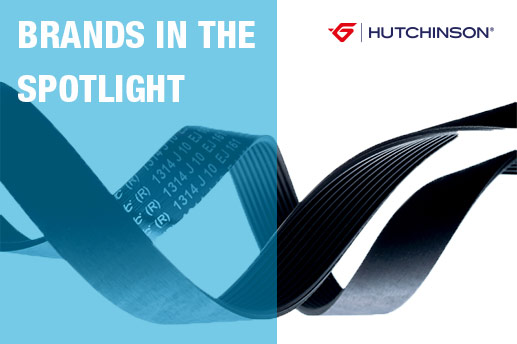 If your machinery relies on industrial belts, the chances are that you have come across Hutchinson. This is because Hutchinson is one of the most popular brands of industrial belt both in the UK and across the globe.
But who exactly is Hutchinson and which of their products should you be looking out for?
In this article, we'll take a closer look at Hutchinson, shining a spotlight on this popular brand. Read on to learn more about Hutchinson, including their most popular products and where you'll find Hutchinson components.
Who Is Hutchinson?
Hutchinson is a French company who began life in 1853 manufacturing rubber shoes. The company quickly diversified into tyres for bicycles, automobiles and even aircraft, before turning its hand to manufacturing industrial belts and other machine components.
Today, Hutchinson has expanded into numerous industries and sectors, including aerospace, agriculture and general industry. They offer an extremely comprehensive range of products, with over 30,000 items in their catalogue.
Hutchinson also has an impressive global reach and they operate in over 100 countries around the world. In the UK, Hutchinson is a major supplier of power transmission belts to almost every industry, with an extensive network of distributors and stockists.
What Products Does Hutchinson Offer?
Hutchinson is a leading manufacturer of industrial belts, including both timing belts and poly-v ribbed belts. Let's take a look at Hutchinson's product range in more detail.
Hutchinson Timing Belts
Hutchinson timing belts are known for their strength and flexibility, making them the ideal choice for light or heavy duty applications. They are also very quiet in operation, making them perfect for use in packaging machines and other industrial equipment.
Hutchinson Poly-V Ribbed Belts
Hutchinson poly-v ribbed belts are specifically designed for use in high speed applications. They offer excellent resistance to slipping and stretching, making them perfect for use in gearboxes and other power transmission applications.
In fact, it was Hutchinson that pioneered the first ever poly-v ribbed belt, so you can rest assured that you are in good hands with Hutchinson poly-v ribbed belts.
Where Are Hutchinson Industrial Belts Used?
Hutchinson industrial belts are used in a wide range of industries and sectors, including transport and logistics, food production, packaging, printing and processing. In fact, you'll find Hutchinson belts in almost every industry!
Industries which rely on Hutchinson industrial belts include:
Agriculture
Automotive
Food and beverage
Manufacturing
Metals
Mining and quarrying
Packaging
Printing
Transport and logistics
Where To Buy Hutchinson Belts
Hutchinson is a world leader when it comes to the manufacture of industrial timing and poly-v ribbed belts. But where can you buy Hutchinson belts?
Here at ACORN, we are proud to distribute the Hutchinson range of belts. From the pioneering design of the Hutchinson poly-v ribbed belt to the reliable Hutchinson timing belt, we can help you to find the right industrial belt to solve your application challenges.
Whether you're searching for the right belt to specify for a new application or looking to upgrade your existing belts, we can assist you in finding the ideal Hutchinson belt for your machinery.
If you're considering choosing a Hutchinson belt, our power transmission product experts are on hand to assist you in finding a solution that stands up to the unique challenges faced by your business.