The ACORN Bearing Compendium: Everything you need to know about bearings, Part 1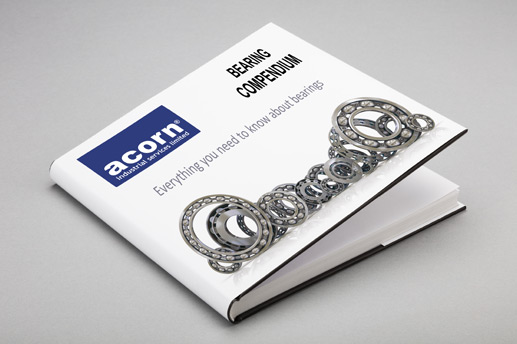 Bearing product manager Andy Fletcher has been asked hundreds of questions about bearings during his career. In this series of articles, Andy shares some of the most common questions and provides in-depth answers to help you select the best bearing for your application.
What do I need to consider when selecting a bearing?
Bearings are one of the most critical components for any piece of industrial machinery. These high-precision components are essential for reducing friction and carrying load during rotational motion. You won't find many industrial applications which don't have at least one bearing.
There are thousands of bearings on the market, including ball bearings, cylindrical roller bearings, tapered roller bearings, needle bearings and bearing units. Whilst ball bearings are the most common type of bearing, each type has its own features and benefits, making it suitable for certain usages and applications and unsuitable for other operating environments.
Selecting and installing the right bearing is crucial for ensuring optimal machine performance. Not only will the right bearing increase the performance of your machinery, but it will also extend its service life whilst reducing your downtime and maintenance costs.
Choose the wrong bearing and you risk reducing your efficiency, increasing your maintenance requirements and potentially even causing expensive downtime.
However, it's not always easy to choose the right bearing for your application. There are many different factors you need to consider when selecting a bearing, such as speed, load and operating conditions.
If you're unsure, it's always best to consult a bearing specialist for advice on the best bearing for your application.

Here are some of the factors you should take into consideration when choosing a bearing for your application.
Available space
The first thing to consider when you're selecting your bearing is the installation space available. No matter how suitable a bearing is for your application requirements, it can't be fitted if there isn't space available.
Some types of bearing take up more axial space than others, so there are always alternative options if the most suitable bearing is too large for your application.
The space available will determine the bore size and outer diameter of the bearing you select, so it's important that you find out this information before choosing your bearing.
Load rating
There are two different types of load that we talk about when we're looking at bearing specification: radial load and axial load. Radial load is perpendicular to the shaft, whilst axial load, also known as thrust load, is parallel to the shaft.
Different bearings are able to support different types, directions and magnitudes of load. For example, a cylindrical roller bearing can withstand a high radial load whilst the thrust bearing supports a predominantly axial load.
When a bearing is subjected to both radial and axial load at the same time, this is known as a combined load. Bearings, such as the tapered roller bearing, have been specifically designed to accommodate combined loads.
In some applications, bearings may need to be paired to balance variable load conditions, or to address complex load conditions. In this situation it's best to consult a bearing specialist to receive expert advice on the best bearing arrangement for your application.
Rotational speed
Every bearing will have a speed at which it performs optimally, along with a maximum operating speed. An application which operates at high speeds will need a different type of bearing to an application which operates at slow speeds.
Certain bearings such as the deep groove ball bearing and angular contact bearing are designed to be able to withstand high speeds. However, this is often at the expense of some load carrying capacity. Cylindrical roller bearings and needle bearings are often available with a cage which allows for higher operating speeds. Again, this typically reduces the load carrying capacity of the bearing.
If you choose a bearing which does not have a high enough speed rating, it's likely that your bearing will quickly fail due to fatigue, causing expensive downtime and requiring replacement.
Rigidity
Applying load to a bearing causes elastic deformation. This begins with the areas of contact between the rolling elements and the raceway. The rigidity of a bearing describes the relationship between the bearing load and the resulting elastic deformation. The higher the rigidity, the lower the deformation.
In many cases, the elastic deformation of bearings is minimal and can be ignored. However, in some applications such as machine tools, the rigidity of the bearing is critical.
Roller bearings are often the bearing of choice where high levels of bearing rigidity are required. The rigidity of other bearings such as angular contact bearings and tapered roller bearings can often be increased through preloading.
Misalignment
Misalignment can be caused by a number of things including load, inaccuracy of the shaft and housing and mounting errors. Whilst some bearings are able to tolerate misalignment, others may become damaged as a result, leading to premature bearing failure. For this reason, it's important to consider the level of misalignment within the application before bearing selection takes place.
Bearings which have self-aligning capability are typically chosen for applications where misalignment is present. This may include the spherical roller bearing and self-aligning bearing which are able to absorb misalignment and help to prevent damage to surrounding machinery.
Running noise
In some operating environments, low levels of running noise may be important. The majority of rolling bearings generate minimal levels of running noise. However, some electric motors and measuring instruments may demand further reduced noise levels during operation.
Deep groove ball bearings are typically the bearing of choice where low noise levels are critical. Adjustments can also be made to bearings such as cylindrical roller bearings to further reduce the noise levels during operation.
Operating environment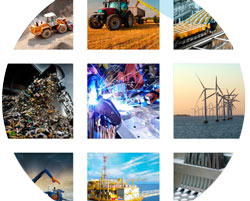 Every application will have a different operating environment. It's critical to understand the conditions in which your bearing will be operating before selection is made. This includes contamination, temperature, impact and vibration.
Some bearings are available in materials which are resistant to corrosion or are certified as food-safe, making them ideal for industries such as chemicals, food and pharmaceuticals. Others have been specifically designed for operating at high temperatures or withstanding heavy shock loads and high levels of vibration.
Understanding the operating environment of your machinery will help you to choose the right bearing for your application, along with the most appropriate sealing solution and lubricant to support it. This will give your bearing the best possible chance of achieving a long service life, keeping your downtime to a minimum and optimising your productivity.
Bearing installation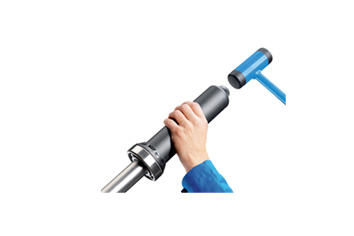 How you'll install and remove your bearing will depend on the type of bearing, your operating environment and your individual preferences. However, it may also be influenced by the space available.
Bearings which can be taken apart are generally easier to install and remove. This typically includes cylindrical roller bearings, tapered roller bearings and needle roller bearings. These bearings are ideal for applications where regular inspections are required.
Bearings with tapered bores are more difficult to mount as the internal clearance needs to be adjusted during the installation process.
For applications where regular inspection or maintenance is required, or where the bearing is surrounded by heavy machinery, a split bearing may be a good choice. These bearings are simple to install without the need for dismantling surrounding equipment.
Lubricant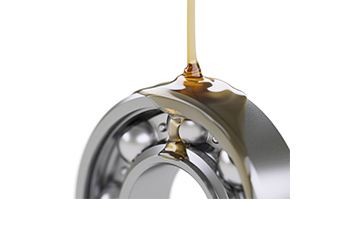 The choice of lubricant is critical when it comes to reliable and efficient bearing performance. Lubricants help to reduce friction which leads to a reduction in wear and an increase in service life for your bearings. For this reason, it's essential to consider your choice of lubricant at the same time as specifying your bearing.
Choosing the right lubricant is just as important as choosing the right bearing. The lubricant you'll choose will depend on the operating conditions of the bearing including load, speed, temperature and contamination.
Sealing solution
There's no point in choosing the best possible bearing for your application without considering the sealing solution you'll be using. Always choose a good quality seal, which will keep contamination out of the bearing, keeping both the bearing and its lubricant clean. This will give your bearing the best possible chance of achieving its best possible service life.
When you're thinking about the sealing solution your bearing will require, you'll need to consider the type of bearing, the contaminants it will be exposed to, the operating temperatures it will be exposed to, the type of lubricant which will be used and the forces which will be applied to the seal.
The sealing solution you'll require should be considered when you're selecting your bearing so that you can ensure that they are compatible and will work effectively together.
Help with bearing selection
Bearing selection is an important part of the application design process. Choose the wrong bearing and your performance will be compromised, potentially leading to premature bearing failure and machine breakdown.
If you're unsure when it comes to selecting the right bearing for your application, it's always best to consult a bearing specialist. After all, they're the experts when it comes to bearings.
At ACORN, we have product experts on hand who can help you to specify the right products for your application requirements. Our experts will take the time to get to know your business to ensure that you select the optimum bearings for your machinery.
Other topics in the ACORN Bearing Compendium series include: