"Just a note to say thanks for your help over the weekend, our production line is now up and running thanks to your exceptional customer service. "

Matt - Siemens Healthcare Diagnostic Products Ltd
ACORN® FIFE
ACORN® Fife have a huge amount of knowledge, experience and enthusiasm - all in equal measures. Comprising a team with over 50 years of experience servicing industries including: power generation, food & beverage, mining & quarrying, agriculture and offshore fabrication ACORN Fife concentrates on building relationships with customers and works closely with them to understand the products and services they require.
Situated in Glenrothes, just off the A92, ACORN's regional distribution centre is in the heart of Fife. Our central location means the Fife branch is able to offer a free same day delivery service to customers in and around Fife, Dunfermline, Dundee, Perth, Aberdeen and Inverness, with overnight carriers also available for the Grampians and the Highlands.
---
We would just like to take the time to thank yourself and the team at Acorn Fife for the service that was supplied during our main outage. The service was impeccable.
It was greatly appreciated that your phone was close by to assist at a drop of a hat.
Once again Phil, many thanks from myself and all the staff. We look forward to using your service again!!
Colin Malcolm, O & M Co-ordinator, EPR Scotland
---
"I would like to thank yourself and the branch staff for the excellent levels of support you have given us at Berendsen kirkcaldy. I cannot emphasise enough how your staffs levels of commitment, knowledge and determination to help has assisted us over the past few months. In particular with the sourcing and delivery of hydraulic fluid at extremely short notice. This enabled the site to continue with uninterrupted production at a very busy period and eased my work load while allowing me to deal with a system failure. The determination of yourself and the team to go above and beyond to help is highly commendable. It is reassuring to know that I have yourself and the site nearby to help us in our hours of need or with general day to day spares. Once again, many thanks to you and the site."
John P. Morris, Engineering Manager: Berendsen UK Ltd.
Meet the team

Philip Mclaughlin
Regional Manager
Phil has worked in the bearings industry for over 25 years. He spends his spare time trying not to crash his mountain bike and trail running.

Iain Anderson
Branch Manager
Iain has worked in the industry for many years, he is a keen gamer, particularly on the Xbox, and also enjoys going to the cinema.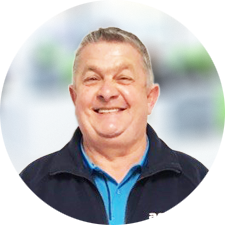 Stan Anderson
Delivery Driver
A father to two grown up kids, as well as a grandfather to two, Stan spends his spare time playing golf, socialising and traveling.

Robert Karbownik
Business Development Manager